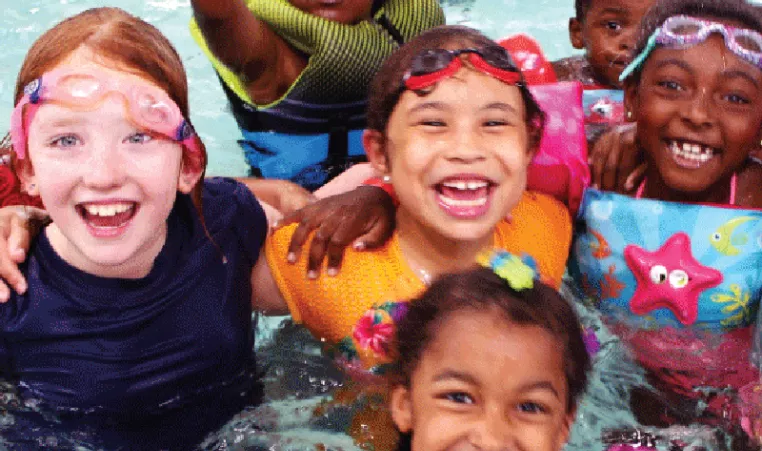 Summer is approaching quickly, and we can feel the energy in the air at our YMCA locations! Whether you're looking to mix up your routine, try an outdoor class, or spend quality family time together at the YMCA, we've got you covered!
Summer Camp
We believe in the many benefits of Summer Day Camp. If you haven't registered for camp yet, now is the time. Very limited spots remain at Bar Y Outdoor Adventure Camp, Brenda Cowan Elementary, and Second Street School in Frankfort. Don't miss the adventure, enrichment, and fun of YMCA Summer Day Camp! Registration is open here.

Thank you to White, Greer & Maggard Orthodontics for continued support of summer camp.
Water Watcher Challenge
Now through May 30, take the Water Watcher pledge to keep kids safe in and around water this summer. Everyone who takes the pledge will be entered to win some great prizes – we're giving away 4 YMCA Water Safety gift baskets and 4 sessions of swim lessons. Will you be a Water Watcher with us? Take the pledge now.
Outdoor Aquatic Fun
The Outdoor Pool at Beaumont and the Splash Pad at Whitaker will both open (pending weather) on Saturday, May 28. Join us at Beaumont for a live remote with iHeart radio, giveaways, and fun.  Keep up with pool schedules and updates all summer long on our mobile app.
Member Appreciation Events
As a thank you to our YMCA members, we look forward to celebrating summer with special member appreciation events. Family Fun Day, cookouts, chalk art fun, and more – sun's out, fun's out! Learn more about the many activities throughout the Y on our Events page. 
Youth Sports
The official summer league of youth sports kicks off with practices the week of June 6, and games beginning week of June 18. Soccer, flag football and basketball will run a new session beginning in August. Key dates for the fall leagues are:
Registration for YMCA members July 1-10
Registration for the community July 11-31
Practices begin August 15, games begin August 27
Thank you to White, Greer & Maggard, Academy Sports + Outdoors, and Wesbanco (Frankfort) for sponsoring our youth sports programs.
Kids Triathlon
The White, Greer & Maggard Kids Triathlon is back for 2022 on Sunday, August 21 at the C.M. Gatton Beaumont YMCA. Registration opens on Wednesday, June 1.
Participants can enroll in one of two four-week sessions to train and prepare to perform their best on race day. The first session kicks off June 8 and will be held weekly on Wednesdays at the Beaumont Performance Training Center. Learn more and register here.
Mobile App Wellness Challenges
We're encouraging you to stay active this summer in the Strong Body, Strong Heart, and Strong Mind app challenges. For June, July, and August, we will offer a monthly focus on strength, heart, and mind/body respectively. This might be the perfect chance to try new equipment or a new class and earn prizes along the way. Bonus! We'll drop all new on-demand videos bi-weekly that align with these challenges, taught by your very own YMCA instructors, so you stay active even on summer vacation!
Working at the YMCA
Summer isn't just a great time for members and program participants – employees have a blast, too! While the YMCA is a great place to work year-round, summer always brings plenty of opportunities for seasonal positions. In addition to a job with purpose and building lifelong relationships with colleagues, eligible employees can receive a summer bonus of $500 cash. Explore job openings and apply for your best job ever here.
Let's Get Social!
Don't miss a thing at the YMCA! Be sure you're following us on Facebook and Instagram. We love to share about events, our staff and members, and showcase what's going on at different locations. Are you having fun working, exercising, or playing at the YMCA this summer? We'd love to see your smiles. Tag us when you post on your socials!