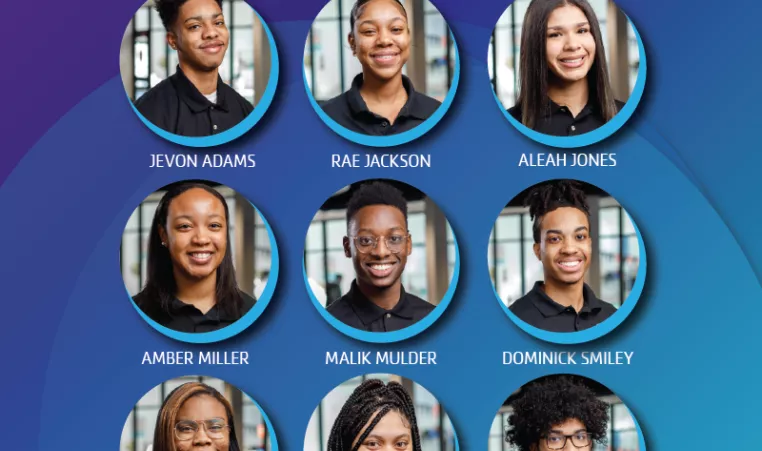 As another school year winds down, we want to take a moment and celebrate a special group of students in our YMCA community. Our 2021-22 class of YMCA of Central Kentucky Black Achievers has demonstrated resiliency, strength, and commitment during another year of tough circumstances.
Under the guidance of Black Achievers Director Cierra Spaulding, this year's program participants were coming out of COVID-19 restrictions at their schools while still navigating its impact socially and emotionally. The Achievers program year started in-person with a lot of celebration and hope, but due to emergence of not one but two coronavirus variants, converted to an online format. Fortunately, the program was prepared for several scenarios and was ready to keep the students engaged regardless of the obstacles thrown their way. "The premise of Black Achievers is college and job readiness, and sometimes – most of the time - the real world can be unpredictable," Spaulding shared. "Modeling flexibility and adaptability in real time is the best education we can give these kids."
Founded in 1985, Black Achievers supports youth in academics, mentoring, and post-secondary success through dedicated business and community volunteers who support the program giving of their time, talents, and treasures. "Even with the many challenges we faced, our volunteers remained committed, and we are thankful that they saw this year through," Spaulding continued.  "Also, we had a tremendous group of seniors of whom we are extremely proud."
Those seniors - nine in total – are graduating from their respective high schools, as well as the Black Achievers program, this month. As part of completing Black Achievers, each senior had to complete a senior portfolio and series of interviews conducted by a committee comprised of community volunteers, YMCA board members and YMCA leadership. These students have a variety of interests, hobbies, dreams, and plans, but collectively they have the shared experience of their senior year in Black Achievers together. They will be recognized in a year-end celebration on June 2.  After that, they face the tremendous milestone of taking their next steps in life.  It is our great honor to send them on with the support and encouragement of the YMCA behind them. Kudos on a great year and to the many successes of this class. We truly look forward to seeing all they do in the future!
The Black Achievers program runs annually on the school calendar. To stay up-to-date on registration and information for the 2022-23 school year, follow YMCA of Central Kentucky Black Achievers on Facebook or Instagram or visit ymcacky.org/achievers.