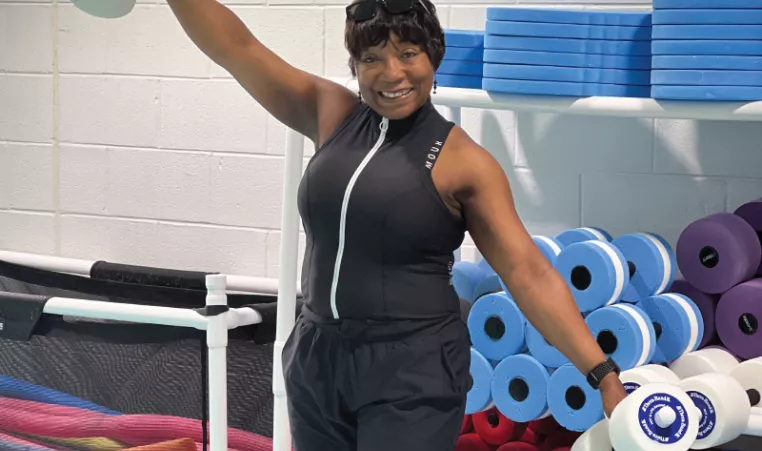 Dorothy Moore has a reputation that precedes her. As a water aerobics instructor, she is described by participants as prepared, tough, and challenging; a characterization which seems fitting for a woman who retired from the U.S. military after twenty-nine years of service. It is that kind of discipline that makes Dorothy reliable and prepared for class, but that is just one part of being a beloved instructor. Dorothy is also an encourager and realizes the opportunity that she has to be a listening ear for her class participants.  "Teaching my aqua class is much more than providing a fitness class. I aim to make that one hour class a positive experience, " Dorothy shared. "I make myself available to address concerns or questions before and after my classes. Sometimes people just need to be heard." So she listens, and she also shares. "I love helping people realize fitness goals, I love gardening and share plants and gardening tips. I believe in sharing what I've learned with others."
Dorothy has been doing just that -- sharing through instruction -- for six years at the YMCA.  She taught water fitness at the High Street and Whitaker locations before settling into a regular schedule at the C.M. Gatton Beaumont YMCA. She loves incorporating music and will plan themed workouts (think holiday playlists and Motown weeks!) to keep things fresh, varied, and fun for her many regular class attendees. She is always ready for new faces, too. "The YMCA is a place you can be around people that you might otherwise never meet, especially if you live alone. It is a safe haven for kids and a gathering place for senior citizens. It's exciting to see how people interact and how new people are welcomed," Moore added.
Dorothy truly embodies the spirit, mind, body philosophy of the YMCA. Beyond the physical fitness of aerobics, she finds that being a part of the Y is also good for a sense of belonging. When the YMCA partnered with local schools and community organizations last winter to address food insecurity, Dorothy was one of the first volunteers to sign up to pack grocery bags. "The YMCA has allowed me to give back to the community and change lives while affording me the opportunity to be a part of something bigger than myself," she said.
Truly, Dorothy is giving back in many ways; she is building community at our YMCA. "I love the camaraderie! I retired from the military and thought that I'd never experience that again. But the YMCA offers the same in a different way…which is awesome!"
Interested in attending a class? Dorothy's schedule includes Monday and Wednesday Aqua Fitness classes at 9 a.m. at the C.M. Gatton Beaumont YMCA. Try her class - she welcomes new and experienced exercisers alike. Look for Dorothy when you arrive to get settled in – she'll be the one with the big smile on her face! You will get a great workout, you'll feel welcomed – and you might just come away with a gardening tip, too.
If you're interested in the mission of the YMCA of Central KY and current job opportunities, we encourage you to check out our careers page. If you know a current YMCA staff person who you'd like to see featured, let us know! Email marketing@ymcacky.org and we'll be in touch.