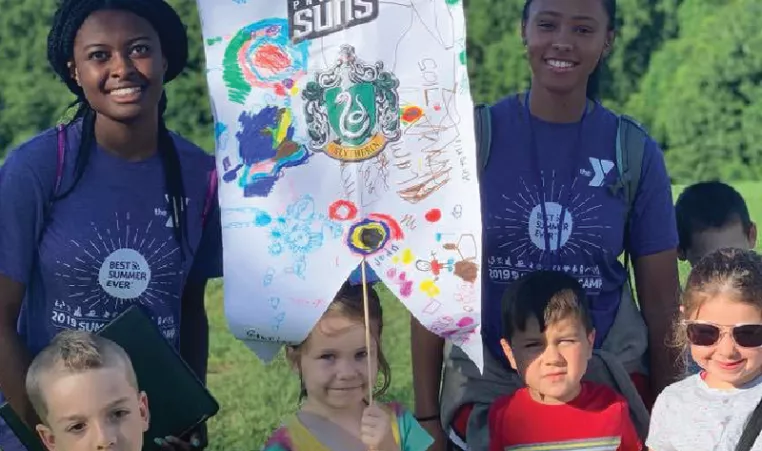 At YMCA camps, kids get to be kids. We know that now more than ever, engaging with peers in collaborative spaces is vital to mental health and well-being. Full of fun, activities, and enrichment in a safe and encouraging environment, our camp programming is designed to help campers make new connections and develop a stronger sense of self.

No matter your background, your availability for one or many weeks, or your child's interest, there is a camp where you and your family are welcome. If camp feels cost prohibitive, please know that the YMCA offers financial support for families in need.
 
Our camp staff are energetic role models and we invest a great deal into their development and training. The YMCA has a highly competitive selection process including national background checks and successful completion of camp trainings. Mandatory training hours are spent on First Aid & CPR, curriculum planning and design, character development, bully prevention, child abuse awareness, water safety, behavior management, risk management, and a variety of other topics to ensure your child(ren) have a safe and fun experience at camp. We will have a zero tolerance for cell phone use during camp!
 
No two weeks are the same! - Weekly themes such as Super Heroes Near and Far, H2 OH Yeah! to Aloha Island Cruise help set the tone for all sorts of fun activities and a variety of experiences. A YMCA day camp experience offers kids the chance to learn new things and enjoy new adventures including science and technology, arts and crafts, games and sports, and outdoor explorations.
 
Physical activity and outdoor time – For campers who love soaking up the great outdoors, the Bar Y Adventure Camp is an ideal option. Sports, games, and a variety of activities at the unique camp on Versailles Road will build self-confidence, independence, and provide a sense of belonging. New in 2022! Bar Y campers will attend off-site field trips including ropes courses and Lexington Legends baseball games.

For campers at our Day Camp locations, daily outdoor time is also part of the curriculum. We know fresh air, movement, games, and activities are all part of a memorable summer and our camps are programmed to deliver. Where and when available, campers will also have the chance to swim.
 
Camp gives kids a chance to explore something new. Meeting new kids and counselors, playing a game they've never played, being in new situations and environments all helps the campers build confidence, develop self-esteem, and forge independence.
 
From movie days to engaging themes, from swimming to making connections with counselors, the YMCA of Central Kentucky summer camps are a place where your children make lifelong friends and memories.
We are ready for summer, are you? For more information, including FAQs, financial assistance, and how to register for camp, please visit our camp page.
The YMCA of Central Kentucky gratefully recognizes our friends at White, Greer, Maggard Orthodontics for their continued support of YMCA Summer Camps.