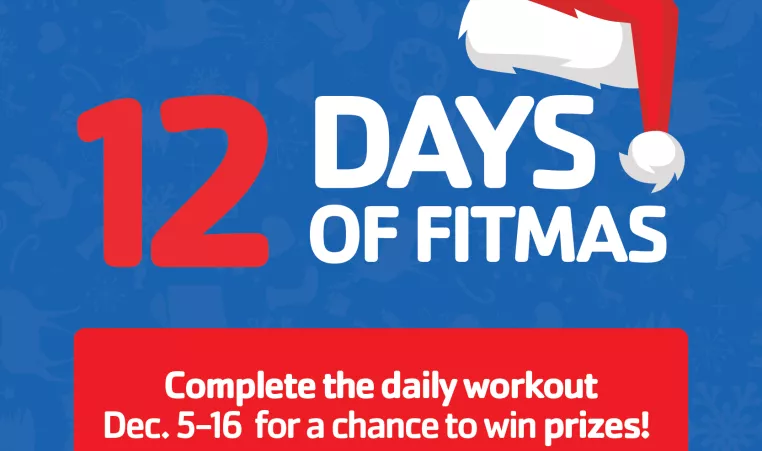 Welcome to the 12 Days of Fitmas! It's going to be exciting, sweaty, and tough. But nothing is merrier, jollier, or more joyful than a fitter, healthier you!
Here's how you can stay active this holiday season with your local YMCA:
Every day Dec. 5-16, we'll post a new workout for you to complete at your own pace. These are bodyweight-only exercises - no equipment needed! Try to do each workout as best you can. We encourage you to take modifications or breaks as needed; just do your best!
 
 The challenge is accumulator style, so each day will be a little bit longer, a little bit tougher. On day 1, you'll do 1 move. On day 2, you'll do a second move plus the first move from day 1. On day 3, you'll do a third move, plus the first two moves. We'll continue this for twelve days, culminating in a 12-move workout.
 
The 12 Days of Fitmas can be in addition to other movement you are doing on a day, or it can be your movement break, even when it is short. Remember, anything is better than nothing!
 
Post your progress on social to share the festive fitness fun and tag us!
 
 We'll post a preview of the workout on social media - be sure you're following along on Facebook and Instagram! We'll also have the full workout video with a YMCA of Central KY instructor posted on our 12 Days of Fitmas YouTube Playlist.
 
Join the December challenge and start busting a sweat!  All participants in the challenge will each be entered in to a drawing to win one of twelve great prizes!

YMCA members, enroll in the challenge by joining through your mobile app. 
Non-Y members, complete this form to enroll.
Unfortunately, our app cannot track the individual workouts you complete so this challenge is on the honor system - but we promise, when you move you'll feel better! And posting/tagging us is a great way to log that you've completed it and we will celebrate you! 
    
Stay tuned for more tips from the Y! Next week, we're sharing 7 Ways for Staying Healthy and Happy During the Holidays. It's practical guidance for spirit, mind, and body through this season!

JOIN THE DAILY WORKOUTS