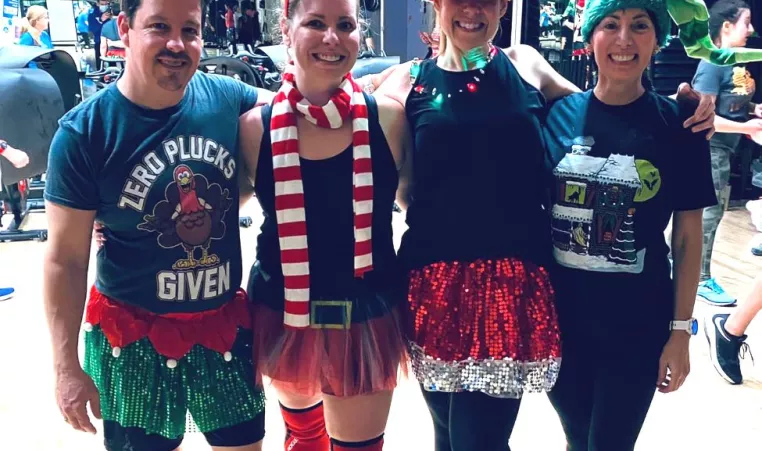 We're often asked for tips and tricks to stay healthy and happy during the holiday season. This time of year can bring a whole host of emotions and activities to individuals and families, disrupting routine and often making it challenging to make healthy choices for spirit, mind, and body. Whether this season is one of joy and hope, or one of anxiety and challenges for you, we hope these ideas might serve you well:

    1. Make a plan! Help mitigate the Sunday scaries by taking some time to plan. Look ahead a few days and make an appointment with yourself for whatever kind of body/mind/spirit fitness you need that week. We suggest literally putting it on your calendar; there is evidence that you can be as much as 42% more likely to commit to a goal if it is written down. But also adjust when life throws you a curveball. Something is better than nothing.
    2. Find a buddy! Having an accountability partner can make all the difference in showing up, and a co-worker can often be a great choice. 
    3. This season can be so stressful and overwhelming for many. A great way to balance any stress is getting outdoors and disconnecting for a moment. Go for a run or walk alone and leave the earbuds at home. Use it as a time to be thankful for your ability to move, and for beautiful creation. 
    4. Use the YMCA of Central KY's 12 Days of Fitmas as movement breaks or your full workout on any given day! We'll post daily challenges Dec. 5-16 to this page on our website and social media, and they'll get progressively longer and more challenging. The idea is to build strength and endurance and really challenge yourself by the last few days. Follow the fun on Facebook and Instagram.  
    5. Resist the rhetoric that you need to "earn" your food through a workout. Just do what you can to stay within a reasonable caloric intake by listening to your hunger cues - eat when you are really hungry, and limit snacking just because the food is present.
    6. Don't use this as a time to try something brand new. Unless you're actually not busy at all during December and the general holiday season – this is not the time to start experimenting. Stick with the tried and true practices that work for you, whether it is favorite group exercise classes or mindfulness first thing in the morning. 
    7. Don't skimp on sleep! Sleep is a time of restoration for your body and can fuel your work day, your exercise, and your social calendar, too, during the holidays!