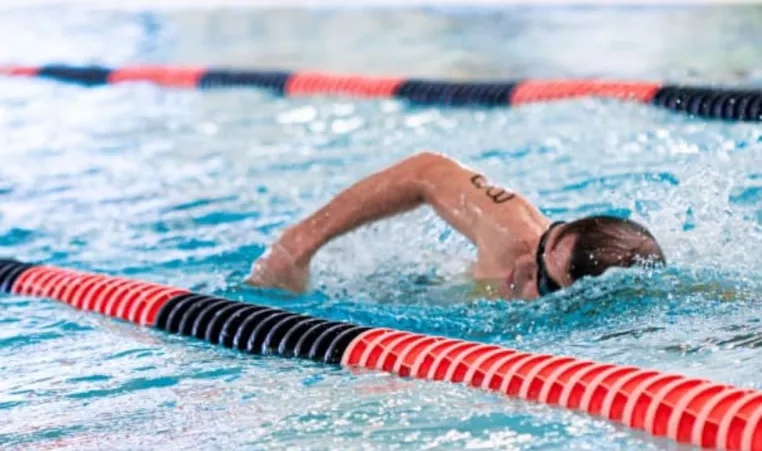 Nathan Williams, Membership and Aquatics Director from the High Street YMCA is leading us through a December swim challenge. Nathan is encouraging members to stay active this month even among the hustle, bustle, and change of routines that come with the holidays.
One way to stay accountable to maintaining or improving fitness is to utilize a training plan. Nathan has collaborated with nine swimmers to compile twelve different swim-based workouts. Completing these workouts will add variety and excitement to your next swim.
The main sets in this training plan are designed to be completed after a warmup of your choice. You should also complete a cool down when wrapping up the workout.
Below is the suggested number of reps to complete based on your experience level in the pool; however, feel free to adjust the intensity and number of reps based on your individual ability. Note: one length of the High Street YMCA pool is 25 yards. One lap of the High Street YMCA pool is 50 yards.

    •    New Elf - Repeat 1 or 2 times
    •    Experienced Elf - Repeat 3 or 4 times
    •    Veteran Elf - Repeat 5 or 6 times

Complete all workouts before December 31 to be entered to win a free YMCA swim cap! Contact Nathan (nwilliams@ymcacky.rg) once you complete the training plan. Please visit our schedules page to view the operating hours of the indoor pool at the High Street YMCA or other YMCA of Central KY locations.

Bonus! This is the challenge that keeps on giving. We encourage you to keep the training plan handy so you can use it again and again, when you're ready to mix things up or track progress from your original efforts.

Download the Workouts Here