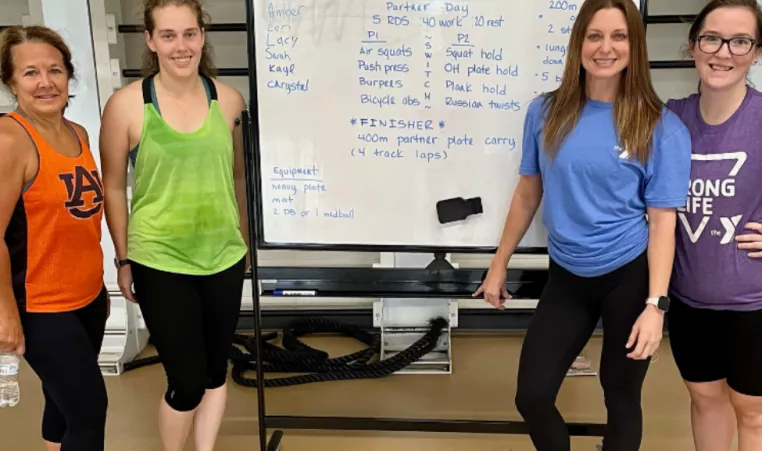 It is particularly fun for us to share Staff Spotlights when that staff person began as a member and decided to join our team. You might remember Paige in a Member Spotlight feature, as she was preparing for her second bodybuilding competition. These days, she's not competing anymore, but she's leading classes and helping members stay active. We caught up with Paige recently with a rapid fire Q&A and got great insight from her about listening to your body, the hopes she has for her participants, and advice for fitness newbies.
Welcome to the Y team! Though you've been teaching for many years, the timing was now right to teach at the Whitaker Family YMCA. For those members who don't know you, tell us - what do you hope members will experience in your classes?
I hope members get to try new forms of exercise and activity in my classes that they haven't done before. I hope to safely introduce members to movements and equipment that they may not have had the courage or knowledge base to try on their own. I hope to be able to help members push themselves a little harder than they may be used to, to help them achieve a sense of empowerment.
You're no longer competing in bodybuilding, but you're very active and seem to be at peace with what you're doing now. Can you share thoughts on the journey that is wellness?
My thoughts on health, wellness, and fitness have evolved over the years. If you are exercising or participating in a hobby that you don't enjoy, don't do it. There are so many forms of fitness out there that there is bound to be something that you can find that makes you happy and keeps you active. Whether it's yoga or Pilates or cycling or HIIT classes or a combination of any of those, your fitness journey should be your own and not what you think you're supposed to do!
We know group fitness can be a great environment for members to explore those options, but sometimes just starting is the hardest part. What advice do you have for people who have never done a class?
Take the class! Try something new! Any instructor you work with at the Y will accommodate your needs, and we are here to help you!
You have such positive energy! What other thoughts or reflections would you like to share about the Y community or group fitness?
I have been working out with the same group of individuals for the past three-and-a-half years during the early morning hours at the Whitaker Family YMCA and while I still don't know all their names or their fitness backgrounds, they have become my constant companions in my fitness journey over these years. They have kept me motivated through many transitions in my life, during Covid and during my time spent doing competitive bodybuilding. I am thankful for the community we've created at our YMCA.
Paige is teaching Blast of the Day at the Whitaker Family YMCA on Wednesdays at 6 a.m. and Saturdays at 8 a.m. Class is held in the performance room, and reservations are required. You can sign up up to 48 hours ahead of class time.