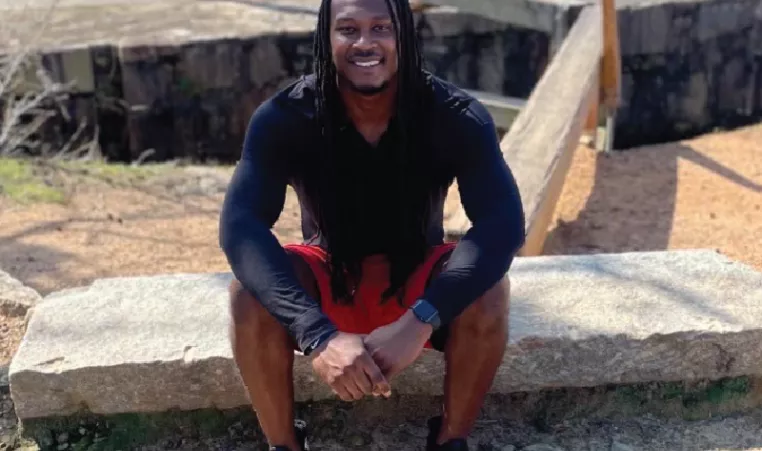 Many of our High Street Y members will recognize this guy – Mark Wright – because he's been a fixture at that location since 2012. But whether or not he's a familiar face to you, we think it's well worth your time to listen in on this conversation when we recently caught up with him.
Mark, who came to love fitness as a talented high school athlete in his home state of Georgia, eventually channeled his passion into personal training - a natural fit for someone who says simply, "I just love helping people." His sincerity and kindness are evident to everyone; truly everyone smiles when they talk about Mark.
Upon his ten-year anniversary at the Y, he finds himself evolving personally and professionally, exploring a new career path in insurance. We are thrilled he opted to retain some training clients at the Y, and recently reflected with him about what training and the YMCA has meant to him.
Mark, you seem so naturally like a Y guy. Has it always been a part of your life?  Actually, no. I grew up near a YMCA but we were never members. It wasn't until I started working at High Street that it became a part of my life - which is amazing because it has helped me grow so much as a man!
In what ways has that happened? How have you seen yourself grow? Well, I have been able to identify my strengths in helping people. While I enjoyed group fitness and creating formats for classes, I have come to know that I like one-on-one training better. More generally, I have grown in ways that help me outside of my job. I developed communication skills I didn't have. I have been a lot of places and done a lot of things I wouldn't have done. My mom has even said over the years she has watched me grow and seen me open up as a person.
It's amazing to hear your experience. But we also know that you have given a lot to this Y and our members as a beloved employee and trainer for years. Do you have any insight on what has been the secret to your success as you've worked with clients?  For one, I don't do negativity when it comes to working out.  That's just not going to work with me, and everyone knows it. For example, if there is something new to try, and nothing is physically wrong with you, you're going to do it. I'll keep you safe but sometimes the most limiting thing is the belief. So, my confidence in them translates to them. I just love helping people.
It may seem simple, but perhaps that is just what people are looking for in a personal trainer. Do you have a sweet spot with a type of client, any kind of specialty for which people seek you out? My very first client was 80-years-old, and he did great. I have trained every type of client since then. I love someone who is eager and wants to learn and will work hard.
And – it would seem you lead by example. You're still very active. What are some ways you like to exercise personally? You might find me doing hill sprints, but I really love the free weights.  
So many people have benefited from having you as a part of the High Street YMCA, and now we celebrate that you've transitioned from full-time training to a new professional endeavor in insurance. How is that going, and can we still expect to see you around? It's a great opportunity for me and I am learning a lot! I still have some clients I'm training, and now with more limited time on my schedule, there seems to be even more accountability. When I think of the Y, I think of family, open arms where we welcome everyone, and a safe place to go and be yourself. You aren't getting rid of me altogether!

Thanks for sharing your time and story, Mark! We're proud of you and glad you're still with us.
For more information about the benefits of personal training or how to get started with a trainer, click here. If you're interested in the mission of the YMCA of Central KY and current job opportunities, we encourage you to check out our careers page.