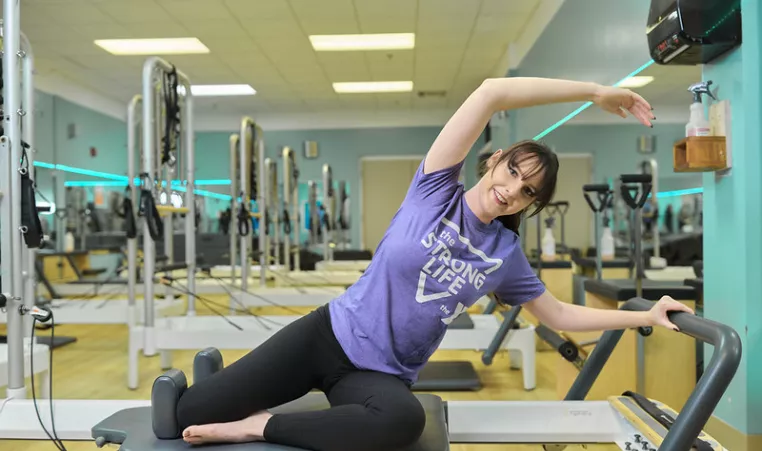 Did you know that Pilates Reformer is over a century old? This exercise program focuses on core strengthening and stabilizing to increase range of motion, spinal health, and functionality in day to day life. All bodies can benefit from Reformer. Check out current and upcoming opportunities to include Reformer in your exercise routine:
Register for an upcoming group class session -  If you have thought about Pilates Reformer before, are looking for a new challenge, or have been referred by a friend or trainer, you can go ahead and sign up for one of the upcoming four or eight-week sessions beginning Feb. 27. All participants begin on Level 1 and have the opportunity to progress through levels as experience is gained.
Sign up for individual or buddy Reformer personal training - More intimate than a group class setting, Reformer personal training allows for individualized attention and guidance with one instructor and one or two clients. Pilates Reformer experience is not required, and our coordinators will assist in matching you with an instructor/trainer.
Pilates Reformer Open House - Drop by any time between 1 - 3 p.m. on Monday, Feb. 20 for an open house at the C.M. Gatton Beaumont YMCA. Instructors will be available for demonstrations and to answer questions, refreshments will be served, and new Reformer participants will receive $10 off registration for the April/May session. Kids Corner will remain open until 2 p.m. for this event for kids 6 weeks - 9 years old. 
Introduction to Reformer classes - The Whitaker Family YMCA is hosting two free Intro to Pilates Reformer classes this month - Saturday, Feb. 11 and Saturday, Feb. 25. Each class is at 11:30 a.m. and will last 30 minutes. Register in the schedule on the website or mobile app, or sign up at the Whitaker Family YMCA welcome desk.