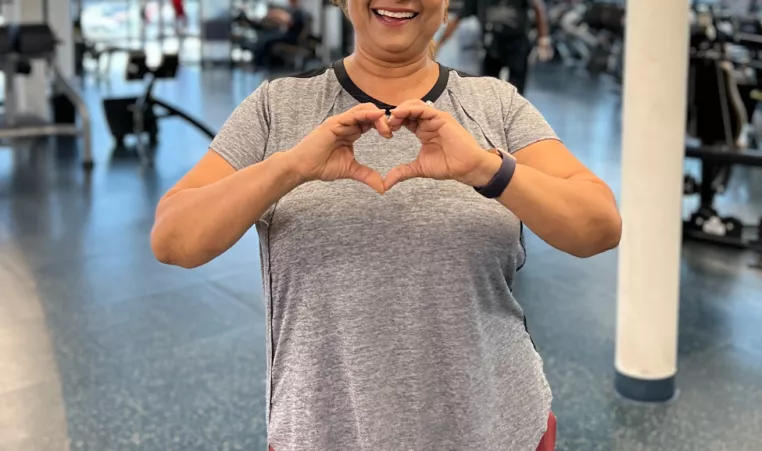 Physical health and developing healthy living habits are always at the cornerstone of the YMCA's work across all ages and stages, but February is American Heart Month, which makes it the perfect time to check in on heart health.

The CDC shares that heart disease is the leading cause of death in the United States for men, women, and people of most racial and ethnic groups. Though there are several risk factors for heart disease, medical professionals offer guidance on a variety of healthy habits that can mitigate those risk factors and keep your heart in good shape. We're sharing two of those tips here, and how the YMCA provides opportunity for individuals to develop and maintain these heart-healthy habits:
    •    Physical activity is one of the leading recommendations that help reduce the risk of heart-related disease and illness. According to the Physical Activity Guidelines, 2nd Edition, adults are encouraged to move more and sit less, ideally getting 150 minutes of moderate-to-intense activity each week. Kids ages 3-5 should be physically active and have plenty of opportunities to move throughout the day; kids 6-17 years old should get at least 60 minutes per day of moderate-to-vigorous intensity physical activity, mostly aerobic. The YMCA of Central Kentucky leads the way with adult and youth physical fitness. Our state-of-the-art YMCA centers are equipped with cardio and strength equipment for all fitness levels. Group exercise classes are available seven days a week, morning to evening, and offer land and water options for all. Youth fitness classes and events, as well as programming in our afterschool care and summer camps, allow our next generation to experience the joy of movement from an early age. Getting started can be the hardest step, so our wellness staff and personal trainers are available to help you. A free success appointment is part of your Y membership - we want to help you get acquainted with our many offerings and help you meet your goals, whatever they are! Take a virtual tour of our five locations to see the facilities and many amenities available with membership.

    •    Social activities can contribute to better heart health, as research has shown that social isolation and loneliness are associated with about a 30% increased risk of heart attack or stroke, or death from either, according to the American Heart Association. The various communities within our YMCA locations provide friendship, accountability, and regular opportunities for social activities. Group exercise classes, pickleball participants, and swim team parents are just a few examples of ways that adults and older adults find community. Volunteer opportunities as a mentor in Black Achievers, a sports coach, or at a YMCA event is another way individuals find purpose and a place at the Y. Youth can look forward to building meaningful friendships and connections in Kids Corner, youth sports, afterschool care and summer camp. If you're ready to get connected to new friends, we're here for you! Our staff can introduce you to other members and help you get connected.

Since we know that physical activity and social connections are great ways to improve physical and mental health, February makes for the perfect Refer a Friend month at the YMCA of Central Kentucky! If you are an existing YMCA member, when you refer a friend to join, they will pay $0 join fee and you get a free month of membership!* Already have some pals at the gym? Pick one and buddy up for the February mobile app challenge. The pairs of buddies who log the most activity points in February will win YMCA scarves - a matching set, of course!

Ready to get in on the fun and build community? Find the best option for you: we offer eight membership types, no contracts, and financial assistance. If you are new to exercise, we recommend you consult a medical professional before beginning a regimen. When you're cleared and ready, the Y is here for you. Stop by any location for a tour and to get started today. Your heart will thank you -- this month and every month.

*The more friends you refer, the more you save -- we believe so much in the benefits of moving together that there is no limit to how many free months you can receive! Learn more about Refer a Friend here.