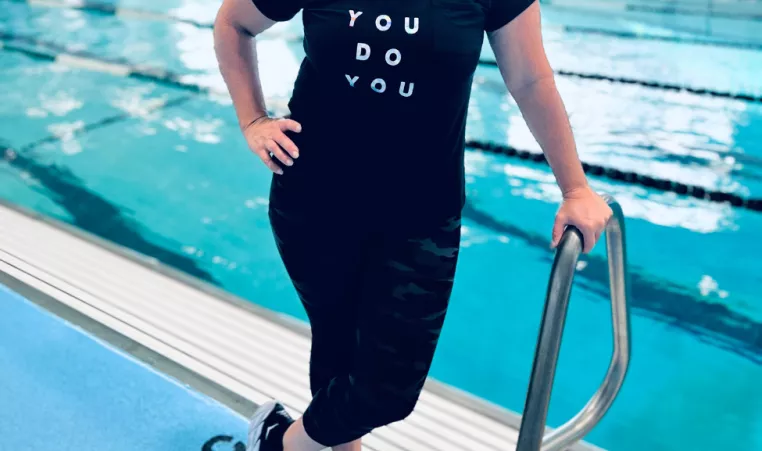 Since 2019, Jenny Dalton Hill has led aqua fitness and cycling classes at the C.M. Gatton Beaumont YMCA. From the pool deck or her bike, she demonstrates exercises, leads fun but challenging workouts, and encourages participants to do their best in every class. If you have ever taken her class or observed her in this element, it might not surprise you to learn that this is far from the first coaching - or public-speaking - role Jenny has had through her adult life.
In addition to being an on-camera analyst for ESPN collegiate softball and the Little League Softball World Series, Jenny is a coach with USA Baseball and the Women's National Team and she coaches events for MLB. Her own experience as a softball player in college has led to amazing opportunities and accolades in her own life. Incredibly, Jenny was recently inducted into the Little League Hall of Excellence - only the seventh woman to ever receive this, the highest honor that Little League® can bestow. Established in 1988, enshrinement into the Little League® Hall of Excellence is conducted annually for a Little League graduate who has demonstrated a commitment to excellence in their chosen profession and exemplify the values learned as children in Little League.
Jenny played in the 1989 Little League® Softball world series and hit the first ever out of the park home run in Little League® softball world series history in that event. Fun fact: The jersey she wore in 1989 while playing in the Little League® world series and the ball that she hit out of the park are now on display at the World of Little League® Museum in Williamsport, PA.
These sorts of experiences in sports makes Jenny a valuable part of the Y instructor team; she understands training and conditioning as an athlete, while listening to your body, and she knows the value of hard work in reaching goals. Her supervisor Pam Carey says that Jenny is a wonderful mix of being "passionate, athletic, and kind."
And, Jenny knows first-hand that being a part of the YMCA can help someone through change and healing. After a hip replacement left this athlete feeling well, not very athletic, she found many options for exercise at the Y as well as a community who encircled her to push herself through recovery. "The Y really has something for everyone," Jenny shares. "I love the variety available. Plus, the Y is just a great community full of people from all walks of life."
It is so easy to celebrate Jenny for her many accomplishments and trailblazing in sports, and for giving back to the sport she loves. She brings so much to our YMCA with her background in athletics and sense of sportsmanship, while embodying the values of the Y through her work as an instructor.