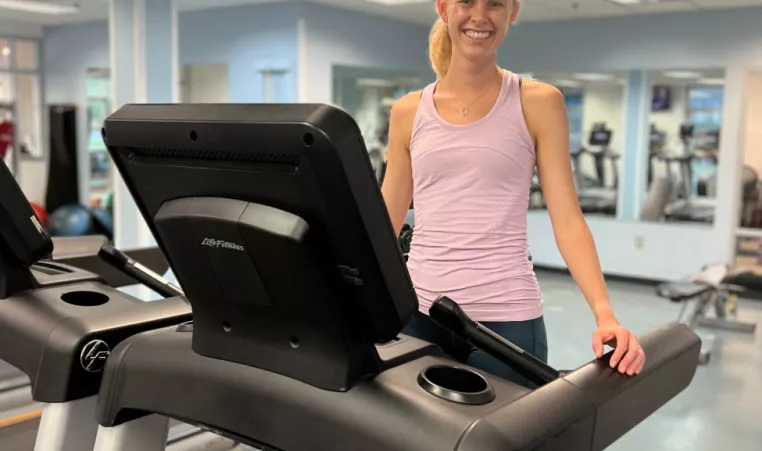 Anna Hansen wanted a gym where, first and foremost, all are welcome regardless of their level of fitness. While we believe the Y is just that place, it is deeply rewarding that Anna is having that experience first-hand and shares about it so enthusiastically. "The Y has exceeded all of my expectations. It's more than just a gym - the Y is a friendly community, a mission-oriented organization, and an amazing place to work out! Walking through the doors of the Y is one of my favorite parts of the day."

Six years ago, Anna joined the High Street YMCA with her family, and it has served as a collective experience ever since; she continues to utilize the facility with her twin sister and beams as she talks about how her parents have stayed active and healthy through activity at the North Lexington Family YMCA. During her time as a member, she has challenged herself with new fitness goals and has tried new activities including strength training, cycling and yoga. She cites the Y's safe, welcoming environment as a key component to trying new things; she has felt comfortable to branch out and try. Currently, she's training for a winter marathon. "The YMCA gives me a place to train, whether it's using the High Street YMCA as a home base for a long run, strength training, or relaxing in the sauna." Running isn't new to Anna, however; she holds the esteemed title of being the Overall Female Winner of the YMCA's Black Cat Chase 5K in 2021!
Anna graduated from the sociology PhD program at the University of Kentucky this past spring, and is now completing medical school as a Wildcat. She and her twin were among the medical students who volunteered in the earliest days of the University of Kentucky Covid-19 vaccine clinics in the winter of 2021. She was moved by the response to the clinic and the opportunity to serve the community - fitting for a future doctor who says, "I'm passionate about health equity, and look forward to combining my research and clinical training!"
Anna is always a smiling face and wonderful ambassador for the Y. "I hope to be a member of the Y for a long time! I look forward to spending time there with my family and continuing to be a part of the community!"
 
We'd love to hear from you! Do you have a Y story you'd like to share? Email us!