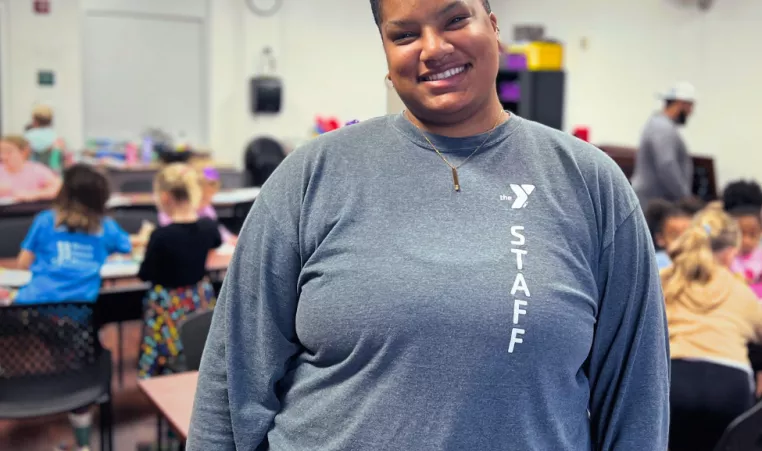 Kennedy Nichols' Y story began at the YMCA of Middle Tennessee, where she was a member, learned to swim, and eventually became a camp counselor as a young adult. When she moved to Lexington for the University of Kentucky, she transferred her experience and skills to Youth Development programs at the YMCA of Central Kentucky. She began as a counselor for after school, and has grown into the role of Site Director for both after school and summer day camp.
Kennedy reflects on the ways the Y has positively impacted her in a short time: "The Y has truly changed my life in so many different ways. I have met so many amazing kids, families, coworkers, and members. Every single kid I have worked with has had some sort of positive impact on me that has helped me grow in so many ways. I love getting to talk with members and being able to hear their stories. I have also built great connections with the kids and their families." Beyond the families she works with, Kennedy finds camaraderie among her colleagues, too. "I appreciate the relationships I have built while at the Y. I have built genuine connections with all of my coworkers and gained true friendships from it."
And the feeling is mutual. Kat Cook, regional operations director for Youth Development, describes Kennedy's work ethic and commitment to Y families. "Kennedy goes above and beyond to give her after schoolers and campers an exciting and memorable experience. She truly creates 'camp magic'. She displays the Y core values and is an exceptional role model for us all. Kennedy always puts the kids first, doing whatever is needed. I am so proud of her and all that she has accomplished."
Outside of working at the Y, Kennedy continues her studies at UK, majoring in social work. Though she says outside of the Y, you could find her "knee deep in homework and looking forward to graduation this December," she is motivated by having a positive impact on children. Her job, as well as her studies, are uniquely preparing her for that. "Every hour that I spend at the YMCA reassures me that I want a career where I can work with kids and also make a difference," Kennedy shares. "I truly look forward to going to work everyday. I could not be more thankful for the opportunities and experiences the YMCA has given me. I truly love my job!"

We're fortunate to have such a passionate leader emerging at the YMCA who is committed to bettering our community by caring for kids and strengthening families. We celebrate Kennedy's dedication to delivering excellent care to youth in our programs, while maintaining a positive attitude and being a great colleague. Thank you, Kennedy for all you do!