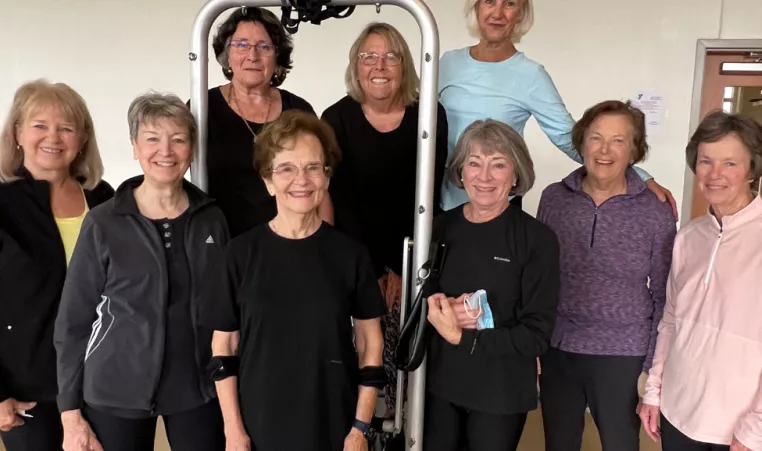 One of the most important benefits of joining the YMCA is having the ability to connect with other people. In some cases, members find others who already have similar interests, but sometimes bonds are forged through shared experiences at the Y. One area in which this continually happens is the Pilates Reformer program, and Pam Brown's Tuesday morning class at the Whitaker Family YMCA is a beautiful example of friendship discovered and nurtured at the Y. In fact, when one of the participants was invited to share her personal story, she suggested to feature the whole class instead: "My story is really a class/community story. The Tuesday morning ladies should all be the focus.....it is that spirit of friendship within the context of the Pilates class that should take the spotlight."
The "Tuesday morning ladies" are Anne, Debbie, Francie, Ann, Bitsy, Janine, Pam, and Katherine. All in their seventies, they have been taking Pilates Reformer together for about six years and are so committed now, that they set their alarms for midnight when new sessions are scheduled to open for registration on the Y website, so they can continue to practice Pilates Reformer - and enjoy fellowship weekly - together.
When one of the class members faced a significant health challenge, the group became a support system far beyond the walls of the Y. "I treasure this class because of the other women. They texted me through it. I would not have made it without these ladies," she shared. The admiration is mutual: "She has been a total inspiration to us. She still exercises. Still comes in with a smile on her face. We are a team."
Beyond navigating a health crisis, they're also supporting each other through the changes that come simply with more years and new decades. Being in a similar stage of life physically, they feel they can not just relate to one another, but also encourage each other. "We trust Pam; she understands, so she makes accommodations for our backs and knees and will help us not hurt ourselves. We are going through the same body issues, so we all understand what it's like. When I see the others doing something, I know I can do it, too. We empower each other - we are all growing old together."
We are so grateful to Pam and her Tuesday morning class for inviting us to visit and learn more about their friendship and shared experience in class. We're wishing them many more years together growing stronger in spirit, mind, and body at the Y!