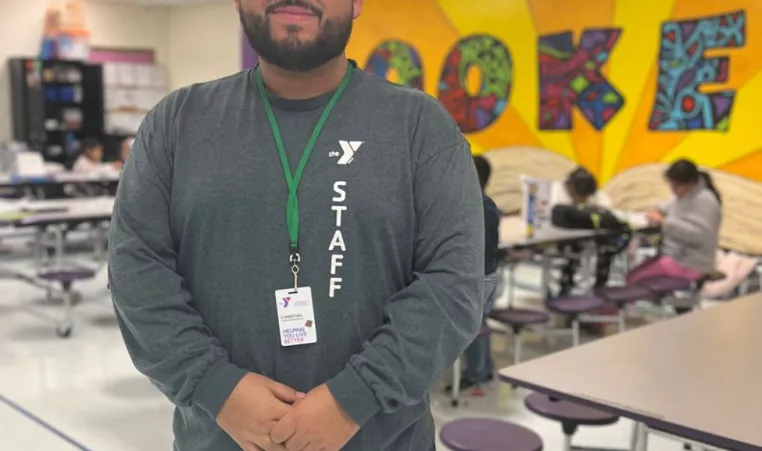 When Youth Activities Coordinator Christian Valadez thinks about the Y, the first thing that comes to mind is opportunity. He shares about his personal experience as a child being able to explore soccer because of YMCA youth sports. Access to soccer at the Y, he says, was an opportunity that ignited a love for the sport that he wouldn't have otherwise been able to discover. He talks about the opportunity the Y gives families through affordable program rates and financial assistance. "Coming from a low-income immigrant family, I relate to a lot of the kids. Some of the kids we have in our programs wouldn't be able to experience team sports at a high level if it wasn't for Y sports." And his role as a site director at Booker T. Washington Elementary has given him an opportunity to lead the afterschool program effectively and remove barriers for participants for whom English is not their first language. "The bilingual staff can help families in stressful situations such as registrations, paperwork, and other administrative duties. Being bilingual allows me to communicate with the parents and the children in a way that's comfortable for them and not overwhelming. I am able to connect to the kids that attend our program. Our members and community bring the most out of us!"
When he's not working, Christian is still involved in the sport that he discovered years ago at the Y. "From playing in adult league to watching my favorite team play to coaching my cousin's youth soccer team, soccer has always been a passion!"
Though Christian has been a member of the YMCA staff for less than a year, his impact is already being felt. He's a team player and willing to learn, while leveraging his own life experiences to make the Y a better place for all. But it isn't all serious business and work all the time: Christian's other favorite things about the YMCA are fun and smiles. It takes only a small amount of time observing him interacting with students in the afterschool program, to see that he has a natural ability for making everyone feel welcome and valued. "Working in all of the Y locations and within sports and child care has allowed me to connect with multiple members and our lovely staff," he shares.
If you see Christian around, be sure and say hi - or hola!
Do you know a Y staff person who deserves a spotlight? Let us know! Email marketing@ymcacky.org and we'll connect!