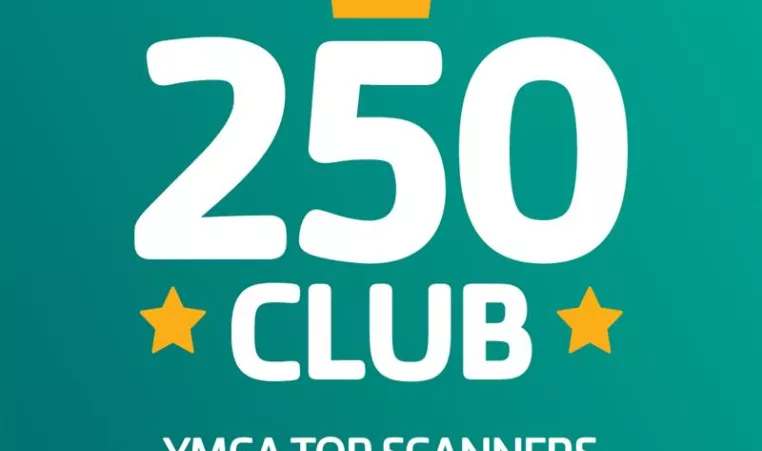 We are excited to recognize our first class of the 250 Club! These 131 members visited the Y at least 250 times in 2022 - we find that incredible!
In addition to pretty epic bragging rights, they'll be sporting 250 Club t-shirts, so if you see one, be sure and give them a high five for their diligence and dedication!
And now, the challenge is on for 2023...will you earn a spot in the club?
 
| | | | |
| --- | --- | --- | --- |
| Aaron Buis | Abel Logan | Adam Warren | Alcendia Croley |
| Amber Hall | Amy Saman | Andre Wilson | Angelica Torres |
| Annamarie Nielson | April Brown | Bardo Villela | Becky Womack |
| Benjamin Mischner | Billie Jo Dandeneau | Blair Phelps | Brenda Kirkpatrick |
| Brian Clark | Cara Robinson | Carl Hillstrom | Charles Morris |
| Christina Varricchio | Christopher Tiede | Colleen Bellas | Conrad "Patrick" Johnson |
| Craig Shockley | Daisuke Hishida | Darius Gardner | David McCauley |
| Debbie Pfuelb | Derick Foley | Diana Barnes | Diana Lopez-Rodriguez |
| Donald Bender | Donna Butler | Doug Powell | Douglas Hicks |
| Edward Gridley | Elizabeth King | Eric Taylor | Ernest Wrentmore |
| Ernest Hall | Eugene Blaydes | Frank Guthrie | Franklin Hazzard |
| Frederick De Beer | Gaylene Mock | Gethen Wood | Greg Stratton |
| Greg Finkbonner | Hollie Schaffer | Hsiaohwa Lee | Jacob Hausley |
| Jamie Turner | Jason Garey | Jeff Tingle | Jennifer Foley |
| Jim Wiese | Jim Pierce | Joel Aran | John Fosson |
| John Stone | Johnny Morgison | Jon Bentley | Joseph Bennett |
| Julia Pratt | Kameron Brooks | Karla Wathen | Kay Ballinger |
| Ken Hawkins | Kenner Bailey | Kevin Dearinger | Kevin Sanderson |
| Kim Spalding | Lacy Taylor | Laura Gruen | Leanne Sebourn |
| Leslie Taulbee | Lou Anne Wise | Makenzie Milzark | Marc Lambert |
| Margaret Gabriel | Marian Baker | Marvin Lear | Mary Ann Getty |
| Mary Lu Gonzalez | Matt Krantz | Michael Richardson | Michael Spalding |
| Michael Allen | Michael Nugent | Nathan Stallard | Newton Brown |
| Nicholas Spalding  | Patrick Metzger | Patrick Bisore | Paul Hickner |
| Paul Ilkanich | Pete Fannin | Peyton Calhoun | Praful Shah |
| Rachel Farrell | Ralph Coldiron | Randall Byzet | Robert Holleran |
| Robert Sanders | Robert Miller | Robert Rankins | Robert Turner |
| Roscoe Taylor | Ruben Mitchell | Russell Scofield | Scott Morris |
| Sherri Morris | Shobanadevi Venkatesan | Sin Yee Kong | Sohyun Martin |
| Stephanie Baldwin | Stephen Foster | Susan Blanch | Susan Byzet |
| Tamara Horn | Tara Cox | Thetford Callahan | Thomas Adler |
| Thomas Clouse | Vera Moreno  | William Reed | William Jr Graham |
| Yadong Goodman | Zachary Lafferty |   |   |