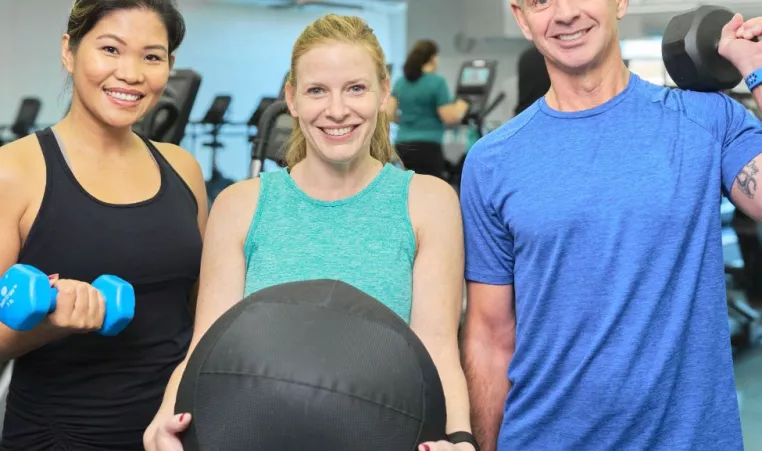 It's January, and we're feeling the new year energy in a big way at the YMCA of Central Kentucky! Fresh goals, a restart, lots of new and returning members - we love the excitement and promise the new year brings. In 2023, we declare it the year of rethinking resolutions. We suggest that instead of a new year, new you goal, we are here for a new year, best you. We think you're already pretty great, but we also honor the desire to pursue self-care and self-improvement and that there is no time like the present - so we're here to help you go ahead and get started.
If your best you this year includes: finding a place to start or change up your exercise routine; learning how to swim; building community and connections with others; staying engaged as an individual or a family; or finding new strength physically, mentally, or spiritually, then the Y is for you. Here are five ways belonging to the Y can help you stay on track with your new year's resolutions:
Routine - Morning, noon, or night - what is the best time to get your exercise in? We say: whatever is the best for you to start and keep a consistent routine! With five locations open seven days a week, the YMCA of Central Kentucky has options for all schedules.

Find a new passion - With hundreds of free weekly classes included with your membership, group exercise can be a great way to commit to your new routine or to mix up an old one. You might just find a new way to love moving your body in dance fitness, yoga, aqua aerobics, cycling, or other class formats. Check our group exercise class schedules here.

Develop your strength - Strength is a building block of so many areas of wellbeing and a practical component of fitness training for all ages. According to the Mayo Clinic, just a few benefits of building muscle includes developing strong bones, improve balance, reduce risk for injury, and help manage weight. At the Y, you can incorporate weights and strength training in group exercise, with equipment on the wellness floors, or by developing an individualized program with a nationally-certified personal trainer.

Make new friends - The Y is so much more than a gym. The YMCA is full of people from all walks of life, in different stages of life, and with varied interests, so it is a wonderful place to meet new friends and build community. Recently a member shared that she joined to get healthy, but stayed for the people. "My Y experience has been life-changing. I've met so many wonderful people, it's like family. So many positive people at the Y encourage me, and we all have the same goal - trying to stay healthy."

Find the support you need - Whatever your goals are for the new year, you don't have to tackle them alone. A free success appointment with our wellness team may be the best first step for you to establish a routine and get started. Kids Corner is a free YMCA service for household memberships that provides childcare for up to two hours a day, so you can have your "you time" while your children are safe and cared for. Seniors can qualify for prizes based on monthly visits to the Y. Financial Assistance is available for individuals and families for both membership and programs. These are just a few examples of the ways that the Y builds community and helps strengthen its members through connection.
We're ready - for the new year, for the best you and for the best us that we can be together. We invite you to visit your local Y for a tour and to meet some of our team. When you become a member in January 2023, we will waive your join fee. Go ahead. Get started.