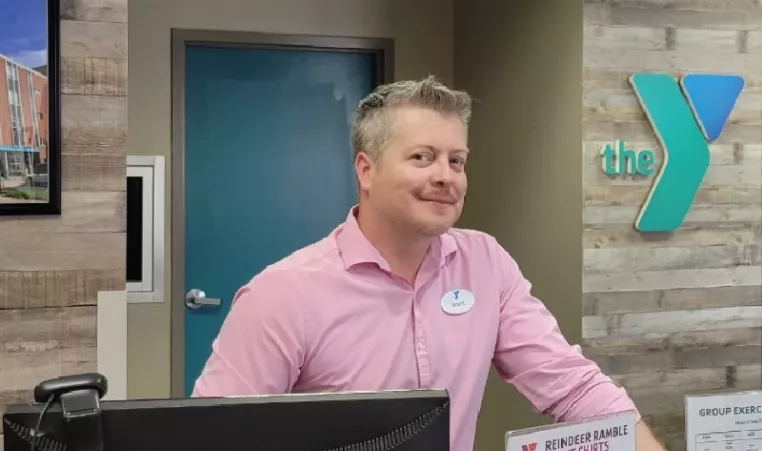 Just like we believe the YMCA is more than a gym for our members, we also believe it is more than a job for our employees. There are so many types of jobs at the Y, and a variety of opportunities to develop personally and professionally. Today we chat with Brent Wallace, a 21- year veteran of the YMCA, Special Olympics volunteer, and avid sports fan, about making a difference and connecting with others through his work.
What is your current role at the YMCA?
I am the regional operations director overseeing two locations: the High Street YMCA in downtown Lexington and Prevention Park YMCA in Frankfort.
What brought you to the Y and why do you stay?
I started working part-time for the Owensboro YMCA while in college, but after 3 years of employment and graduating college, I realized I wanted to make a career with the Y.

I would say I stay because it was evident even in my early years of employment, how much of an impact I'm able to make in the lives of others. For me personally, the Y has allowed me to meet so many wonderful people in the community that I would not have met otherwise. I'm fortunate to be at a place where positivity and community support are prioritized.
What do you appreciate most about the YMCA?
This is really two-fold. The first is keeping the Y accessible to all. We are a melting pot of people and experiences; we have a very diverse population with people from all walks of life. We have programming for everyone - from youth and young adults to families and seniors. We also have members in various financial situations, so accessibility at the Y also means not being turned away for membership or programs. Our Annual Giving Campaign ensures that we can always maintain that philosophy.
So, the other thing I appreciate about the Y is the impact we have in our community – which directly comes from our ability to interact daily with so many different people. I hear frequent stories from members on how the Y has given them hope. Many have become physically healthier at the Y; have recovered from injury or illness with the support of the Y; have experienced a positive social atmosphere when struggling with depression and loneliness; and shared how the Y has provided a centralized place for their families to grow together. Seeing people on a daily basis lifts my spirits. Knowing that our members feel welcome and accepted at the Y always brightens my day.
You spend a lot of time at the Y, both in the facilities and at events. What do you do when you get some free time?
I enjoy playing sports. Growing up, I played baseball, soccer, basketball, football and ran track. Nowadays, I stick to adult league softball. I'm also into the arts, such as pottery, painting, drawing and digital design. I also have a huge passion for helping people with intellectual disabilities. I have been a Special Olympics volunteer coach for 15 years and love every moment of it. Being with my athletes and their families bring me so much joy, and seeing them succeed gives me a great deal of pride. It's so important to view everyone as equals. They're not just my athletes; they are my friends and extended family!
If you're at the High Street or Prevention Park Y and see Brent, give him a wave! If you're interested in the mission of the YMCA of Central KY and current job opportunities, we encourage you to check out our careers page.