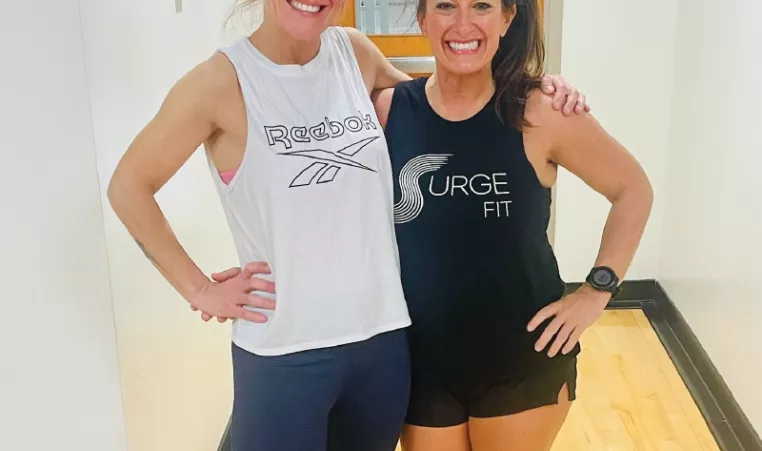 It's possible that no one is more surprised than Jenn Hart herself about the evolution of her own "Y story."
Jenn has been a YMCA member for about five years, though in the beginning she was at best come-and-go. She would start and stop, not really knowing how to get in shape or even what her goals were related to fitness. When the Y had to close due to the COVID-19 pandemic and many classes went virtual, it was then that Jenn unexpectedly fell in love with exercise. "Allison Moore decided to not let anyone suffer over this and kept us moving," she shared. "That is when I truly fell in love with working out and what the Y meant to me. I am forever grateful for her for that." Like so many Y stories, Jenn can point to one person – in her case Allison – who came along to encourage and provide accountability. It was especially meaningful to have that during a time when so much else was uncertain.  "We had someone to get us through a terrible time in our lives. We came together and built friendships that will last a lifetime."
While the time at home during the pandemic was indeed formative for Jenn, what has happened since then is also remarkable: exercise and the Y have become part of her lifestyle and she can see personal growth through her fitness. "Now I look forward to working out and classes that I get to go to. I get excited for new hard classes. Not only does it hold me accountable, it makes me want to do better," Jenn reflected.
She also discovered what puts the "group" in group fitness: in this case, a self-described tribe of regulars who attend many of the same classes and have forged strong, almost sisterly, bonds. "The girls push me to be better. To be stronger. Work harder. There are ladies in class whose names I don't even know, but I look forward to seeing them so we can push one another to be healthier together. That is something you won't find just anywhere."  
This has its own kind of accountability build in. "The fact that when I miss class, I get calls checking in on me. Those calls matter. That is why I love my Y. I have never had that at any other gym. When I think of the Y, I don't think it's just a gym. I think of a family. I think of hard work. I think of fun classes. I think of friendships. I think happy thoughts. I love Allison and all the ladies that make me better."
Jenn's story is a reminder of the transformative power of community and its role in our lives. "We CAN do hard things. We DO hard things. With our biggest supporters right there next to us. How can you not want to be a part of that?" 
We couldn't have said it better ourselves.

Do you have a Y story you would like to share? We would love to hear it! Email marketing@ymcacky.org and we'll be in touch.