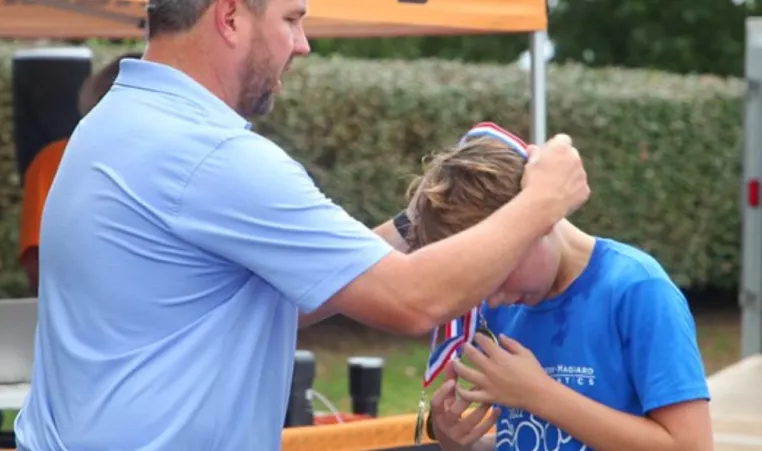 Sponsor Spotlight: White, Greer & Maggard
A commitment to giving back is at the heart of how Central Kentucky-based orthodontics practice White, Greer & Maggard operates. "Dr. Greg White, founder of the practice, believes that giving back is the greatest thing you can do in life," explains White, Greer and Maggard Orthodontics Marketing Manager Lindsey Mays. As a longtime sponsor of YMCA youth programs like summer camp and sports and family-friendly events like Healthy Kids Day and the annual White, Greer & Maggard Kids Tri at the Y, the WGM team has found that the Y perfectly aligns with their own priorities and mission. "The doctors at our practice are not only passionate about healthy smiles, but also about healthy lifestyles," reflects Lindsey. "We want our patients to be active. Our doctors like to see kids out doing things and being active. Youth development is important because those kids are the future - our future! The Y is a great partner because the programming builds character, and is an avenue for White, Greer & Maggard to support the youth and families in our community."

For the YMCA, partners like White, Greer & Maggard are a critical part of moving our work forward. "The sponsorships provided by White, Greer & Maggard create opportunities for all kids in Central Kentucky to realize their potential, be active and participate in safe environments with role models," shares VP of Mission Advancement for the YMCA of Central Kentucky Jessica Berry. "The White, Greer & Maggard team also regularly donates their time to support Y programs. Drs. Lowdenback and Rambo Vinton personally present medals to all the Kids Tri participants. Dr. Maggard and Dr. Pratt were posted at the grill for our WGM Day at Miracle League last fall, making sure everyone was fed and happy. Those are just a few examples. It's truly collaborative, and that makes the partnership between our organizations all the more meaningful."

While these instances are certainly highlights, Lindsey also acknowledges that no relationship, especially those with longevity, is without its ups and downs. "We like to partner with organizations who are able to stick side-by-side when things get tough, like we all experienced in 2020 and 2021. Having a great relationship means knowing we are there to provide support for each other."
As they look to the future, the White, Greer & Maggard team looks forward to unique opportunities to be even more involved with YMCA families. "It's pretty simple, actually. We want to give back to the community and we want to support the families we see in our offices," Lindsey says. "It is 100% a culture standard in our workplace to give back."
By investing in the YMCA of Central KY's programs, the White, Greer & Maggard team is helping us create safe places, build confidence, and create healthy habits in the next generation of thinkers, leaders, and do-ers. We are thankful for the opportunities to partner so that we together can provide quality programming for all, strengthening our community one event, one program, one kid at a time.