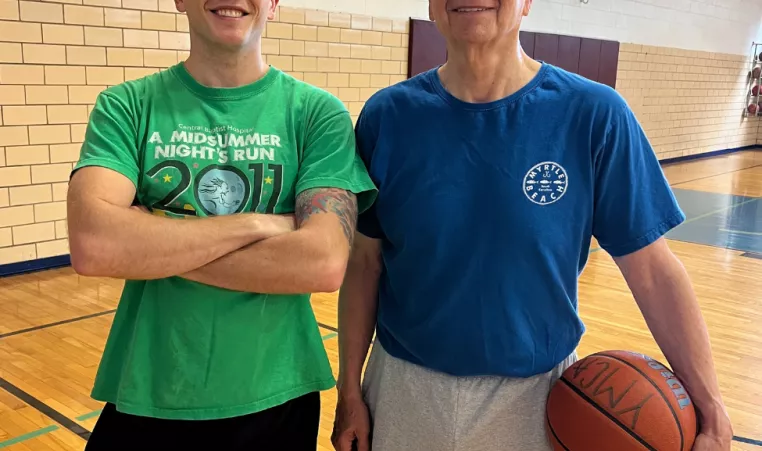 Two or three times per week, you might see a friendly multi-generational game of basketball in the gym at the High Street YMCA in downtown Lexington. It may look like it is two guys shooting hoops, but it's not just any two guys: these ball players are YMCA employee Ryan and his grandpa Harry. Harry, a retired teacher and coach, remains active in retirement with tennis and stretching, too, but has a particular twinkle in his eye about hitting the gym with his grandson. Ryan, a self-described introvert and a data analyst at the University of Kentucky, says they both try to stick to their weekly meet ups unless a scheduling conflict - or an achy back - comes up. They find that playing ball a few times a week is low pressure, high reward quality time together. "One thing I think the Y does really well is create a sense of community for all."
In addition to this weekly time on the court, Ryan joined the membership team at the High Street YMCA as a way to connect with others and get some social interaction after time away at college. But, he is definitely not new to the Y. Ryan learned to swim at the C.M. Gatton Beaumont YMCA, uses the Legacy Trail at the North Lexington YMCA, and works out at the Whitaker Family YMCA when he's running errands in the Hamburg area. "I try to make a habit of visiting as many YMCAs as possible," Ryan explains. "They are each unique with their own positive, healthy atmosphere, and there are great people at every one." Even so, he and Harry share a deep love of the downtown Lexington location, in part Ryan explains, because it most closely resembles the original YMCA in London, England, which was founded to give young men flocking to the city a place to live where they could do healthy activities and improve themselves.
Ryan's experience as both an active member and part of the Y staff team gives him a unique perspective - and deep understanding - of the mission-forward work of the organization. "What I admire most about the YMCA is that, despite being international, each Y improves local communities," Ryan shares. "Whether that be through the financial aid given out through the Annual Campaign or the Black Achievers program or just literally making the people in the community healthier. It's in the YMCA's DNA to do this work."
It is great having Ryan more involved on our team and love that he and Harry have found a rhythm in their relationship that includes making memories at the YMCA.