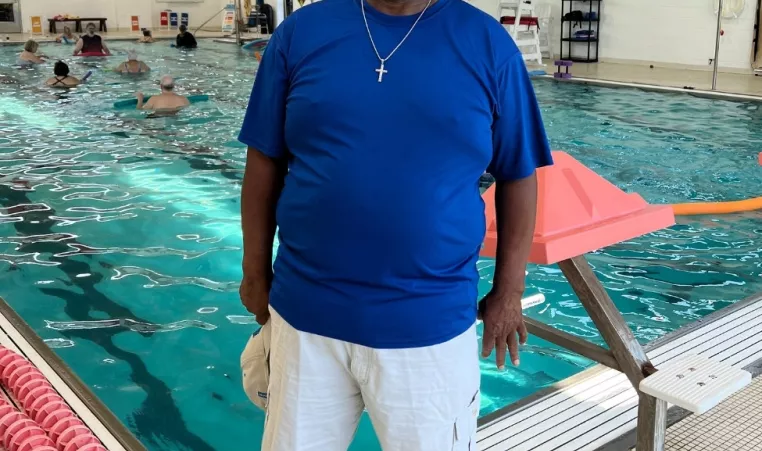 There are no pretenses with Bill Smith, just warmth, humility - and, if you're really special, a secret handshake. In just seven short months of routine exercise at the North Lexington Family YMCA, Bill has managed to drastically improve his physical and mental health, and befriend everyone in his path at the Y. Bill joined the YMCA during a dark time in his life: he was physically unwell and mentally he felt anxious, overwhelmed, and hopeless. "There was nothing but death. I thought I was going to die," Bill shared. Knowing he desperately needed a change, he came to the Y without much of a plan, but a determination to get better. "When you get your mind right, God will take care of the rest."
At first, he tried working out on the wellness floor with machines, but this proved futile as he saw little progress and he struggled with an aching body. A calendar he has kept since starting his health journey reveals many days of attending the Y but not making progress. He uses red Xs on calendar days to denote what he perceived as a lack of accomplishment. But, to his credit, Bill did not give up and eventually found the thing that clicked.
YMCA staff member Victoria mentioned to Bill that he might consider walking in water, and that was when things began to really change for him. "I was just telling him what people had told me about the benefits of low impact exercise in the water," Victoria explained candidly. "I could tell he was hurting and I was just trying to help." And help she did. Bill started regularly exercising in the pool, walking in a lap lane three days a week and the rest, as they say, is history. He tweaked nutrition a little bit and started listening to his body for both food and movement, and to date has lost approximately 50 pounds - as well as the aches and pains he long endured. Bill's doctor even sent a note to the YMCA expressing her delight with the transformation in his health.
While Bill has lost both some weight and the need for his old knee braces, he is quick to share that he has gained so much more. The North Lexington Y community brought him a cake and celebrated his birthday, he's formed relationships with the staff, and is already inspiring countless others by sharing his experience of dedication and success. He'll freely talk about his remarkable story, astonished and grateful that he is able to give back. He'll share the calendar he's been keeping and point out significant days in his journey - black Xs (what Bill considers successful days) have replaced the prominence of red ones from the earliest days of his wellness journey. He shares that he has left behind those days of feeling hopeless. He'll leave you feeling encouraged and uplifted with his gracious spirit.
And if you ask really nicely, Bill will even teach you that secret handshake.