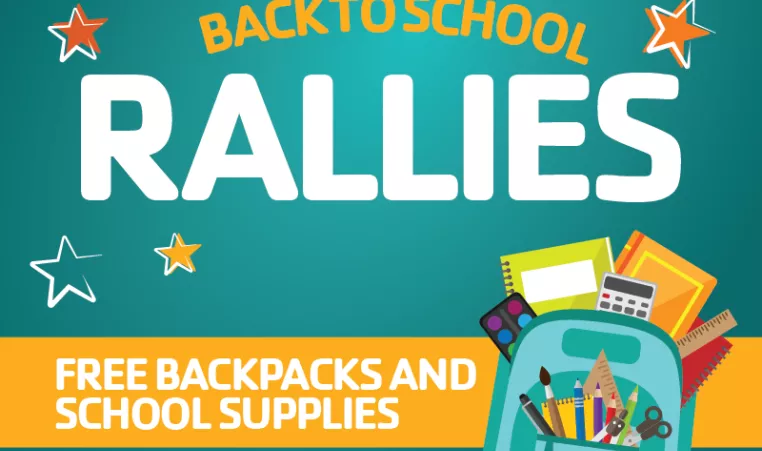 Lexington, Kentucky (July 15, 2021) – As students prepare to return to the classroom this school year, the Y, in partnership with Fayette County Public Schools, sponsors and community partners, will provide 5,500 children with backpacks full of school supplies. The annual Back to School Rallies will be held in nine community sites across Fayette County on Saturday, July 31, 2021 from 9 a.m. to 1 p.m. This is free for families with children in elementary, middle and high school. Advance registration is required.
"As an organization dedicated to youth development, we know how important it is that every child and teen has a safe and enriching environment for learning, but also has the tools they need for success," said Paula Anderson, YMCA of Central Kentucky President and CEO. "Special thanks to our partners and individual donors for their support of this community initiative and their investment in the next generation of change makers."
Through great community partnerships, this year's supporters and sponsors include Setzer Properties, Fayette County Public Schools, Ford Motor Company, United Way of the Bluegrass, Clark Material Handling Co., Wildcat Moving, Gethsemane Lutheran Church, Rotary of Lexington and Wallace Barber State Farm Insurance.
Distribution of backpacks will be drive-thru only from 9 a.m. until 1 p.m. Registration is required in advance for a pick-up time at ymcacky.org/backtoschoolrallies.
If you are interested in directly supporting this community initiative with a financial donation, please visit https://www.ymcacky.org/donate-back-school-rallies.   
Drive thru distribution locations include:
Booker T. Washington Elementary, located at 707 Howard Street;
Cardinal Valley Elementary, located at 218 Mandalay Road;
Coventry Oak Elementary, located at 2442 Huntly Place;
Dixie Elementary, located at 1940 Eastland Parkway;
Gainesway Community Center, located at 3460 Campus Way;
Shiloh Baptist Church, located at 37 E. Fifth Street;
Woodhill Community Center, located at 422 Codell Drive;
Valvoline, located at 3475 Blazer Parkway;
Winburn Middle School, located at 1060 Winburn Avenue.