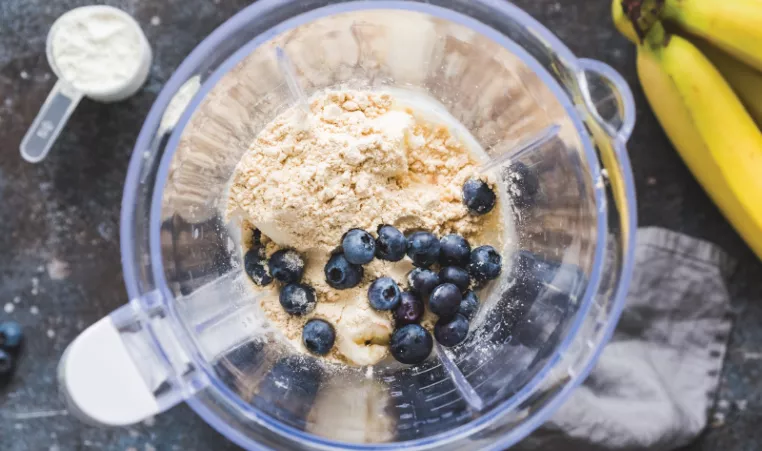 By Jaclyn West RD, LD
Summer is in full swing around here! On these hot and humid days, smoothies can be a refreshing and healthy breakfast, afternoon snack, pre- or post-workout fuel, or even dessert in a matter of seconds. Blended into a delicious, cold concoction, they are an easy way to get even the pickiest of eaters to drink fruits and vegetables, all while reducing food waste by using up leftover produce. This summer, building your smoothie of choice at home will save $$$ and provide a tasty, nutritious boost for the whole family. With a few tweaks, this basic, healthy recipe can be customized to yield all types of smoothies.
Liquid: 1 cup
The right liquid will blend and enhance the flavors already in your smoothie. Skim milk, 1% milk, or non-dairy milk (like almond, soy, coconut, oat, or rice milk) provide creaminess without an overpowering flavor. Coconut milk is my personal favorite for its subtle sweetness, but other delicious liquid options are coconut water, green or black tea, cold coffee, or even water. While fruit juice and Gatorade (or other sports drinks) are additional liquid options, they can rack up the sugar content without providing any fiber (especially juice from concentrate), so I prefer to add natural sweetness from whole fruit. For a thicker smoothie, substitute a lower-liquid option like greek yogurt, applesauce, canned pumpkin, or even cottage cheese.
 
Fruit: ½-1 cup
A recent survey found that 90% of Americans aren't meeting the recommended minimum of 2 to 3 cups of fruits and vegetables per day (bonus - greater health benefits if you eat more). Smoothies can stand in this nutritional gap! Adding whole fruit provides natural sweetness, fiber, vitamins and minerals. Virtually any combination of fruit is delicious: bananas, apples, strawberries, blueberries, raspberries, blackberries, cherries, acai, mangoes, cantaloupe, honeydew melon, watermelon, peaches, pineapple, grapes, oranges, pear, kiwi, and even lemon or limes. Bananas and avocados are essential fruits for their creamy, smooth texture. Plus, if you're trying to gain weight, avocados are an excellent, high-calorie source of healthy fat. I like adding at least ½ of a banana, then tossing in a variety of berries or tropical fruit for more flavor, depending on the type of smoothie desired. If you're out of fresh or frozen fruit, dried fruit can be a substitute. Simply soak the fruit in warm water for 15-20 minutes to let it soften, and use a high-powered blender to avoid large fruit particles in the end product.

Tip: Not sure what to do with too many overripe bananas? Peel them and freeze in an air-tight container or bag for an easy, delicious smoothie addition later.
 
Vegetables: ½-1 cup
For picky eaters who might dislike vegetables on their plate or in a salad, drinking vegetables in a smoothie is a convenient way to supply the benefits of more vegetables in the diet. The most popular blended vegetables are leafy greens because their mild flavor is easily masked by the sweetness of the smoothie. For optimal taste, the more neutral the vegetable flavor, the better (I'd recommend leaving the arugula out of this one). Spinach and kale are excellent neutral choices. Beyond leafy greens, other smoothie-ready vegetables that can be customized to the flavor of a smoothie are zucchini, frozen cauliflower rice, carrots, cucumbers, beets, cooked sweet potatoes, and even canned pumpkin. There's no shame in using frozen vegetables: having frozen vegetables on hand to toss is an easy way to keep your smoothie extra cold. Also, store-bought frozen vegetables (and fruits) offer an optimal amount of nutrients because they are frozen at peak ripeness.
 
Protein (serving size varies)
Getting protein from real, whole food, not artificially-made supplements, packs a greater nutritional bang-for-your-buck. Natural protein smoothie add-ins include any type of nut butter, cottage cheese, greek yogurt, silken tofu (it may sound strange, but it's worth a try), kefir, raw oats, or flax, chia, and hemp seeds. If you still want more protein than the above options, protein powders can be a quick and convenient add-in to boost the smoothie's flavor and nutrient content. It's important to note, though, that not all powders are created equally, and the supplement industry is not regulated by the FDA. This means there's no industry-wide standards keeping these companies accountable for the quality of their product. If you still want to use protein powder, the market's seemingly endless options can be difficult to navigate. Here are a few tips:

• Keep your overall goal in mind and choose accordingly, whether it's to gain weight, increase muscle mass, lose weight, or conveniently increase your daily protein.
• Buy a tub of protein powder rather than ready-made, store-bought protein shakes, which cost much more $$$ per serving. Generally, you will make a healthier smoothie at home with fresh ingredients and a scoop of protein powder than a company will create with other preservatives and additives.
• Generally, the simpler and shorter the ingredient list, the better.
• Check the ingredient list to limit (or avoid altogether) added sugars, artificial sweeteners, or corn syrup solids.
• For vegans/vegetarians, try soy, rice, hemp, pea, or brown rice protein powders.
• For those with a food allergy or intolerance, double-check the ingredient list as many protein powders contain surprising allergens and additives (gluten, lactose, etc).
• If you suffer from IBS or another GI disorder, avoid powders with artificial sweeteners, flavorings, and added synthetic fiber that can cause gas, bloating, and diarrhea.
• Look for the third-party "Certified for Sport" seal from the National Sanitation Foundation, which verifies the products' claims and reduces risk of harmful contaminants being present.

Note: If you have been diagnosed with chronic kidney disease or have another medical reason to limit protein intake, skip the protein powder, or check with your doctor before regularly adding it to your smoothie.
 
Add-ins
This is where you can get really creative to boost your smoothie's flavor and nutrient content. The options are truly endless, or dependent on what you have in the pantry. Here are a few ideas to get started:

Chia or ground flax seeds
Hemp heart seeds
Rolled oats
Nuts: almonds, walnuts, pecans, cashews, etc.
Natural nut butter: peanut butter, almond butter, sunflower butter, cashew butter, etc.
Peanut butter powder
Herbs (turmeric, ginger, mint, cinnamon, all-spice, or even cayenne pepper)
Maca, matcha, or cacao powder
Vanilla, almond, or peppermint extract
Flavored or unflavored fiber powders, as needed
 
Sweetener (optional)
My first recommendation is to blend and taste the smoothie BEFORE adding sweetener. With delicious natural ingredients, your smoothie may not need any additional sweetness. If more is desired, though, first try blending a whole, pitted date into the smoothie. Next, add a splash of honey, maple or agave syrup, or regular/liquid stevia.
 
Ice (optional)
Frozen fruit or vegetables (instead of ice) will maintain thickness in the smoothie. However, if you need to use fresh fruit instead, add a handful of ice to keep the end product cold and frosty.
Want to learn more? Check out the links below for some of my favorite summer smoothie recipes, and schedule a nutrition counseling appointment to make an individualized plan for your health goals:
For Kids:
Protein Smoothies:
Veggie-Packed Smoothies: