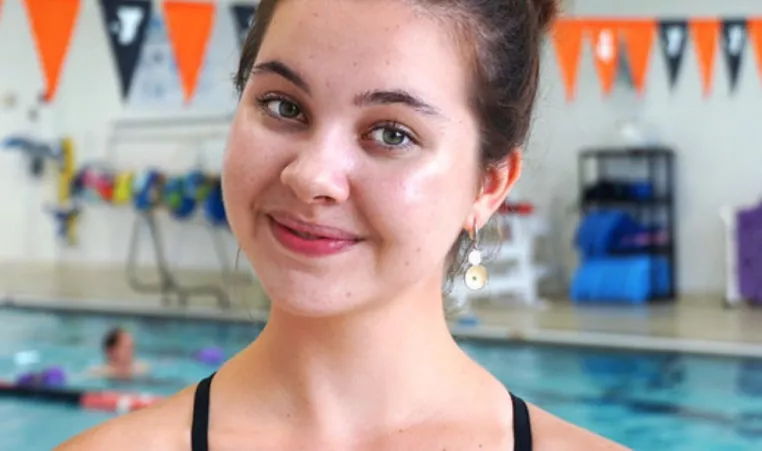 Linden McGregor, a North Lexington YMCA Tiger Sharks senior, seemingly has the energy of an entire team. She's a Theatre major at SCAPA of the Bluegrass, recently taking up dulcimer and playing violin for Lafayette's current competition piece, The Old Man and the Old Moon. She's learning not one but two languages (Spanish and American Sign Language), and is currently interning in a molecular biology lab at UK. And when she's not busy with those commitments, she's competing in the pool and encouraging her teammates along the way. "My team has so many wonderful people on it, and I'm very thankful for the amazing coaches. I love the friends I've made through swim team so much, and I've made incredible memories at meets and in practices."
Though friendship and the mentorship of good coaches would be enough, Linden explains that swim team has also given her tools that go beyond the pool - and certainly help her in her many activities. "Swim team has taught me to set goals I'm willing to work towards, how much of a difference a supportive community makes, and how to contribute to that support system myself." She parlays that learning into advice she shares with new swimmers: "Hard work and showing up for practices really pays off. Swimming is so much more fun when you cheer for your friends and teammates and are happy when they succeed- they'll do the same for you!"
After ten years as a swimmer, she's identified the 100 fly as her favorite and best event, though she also really likes breaststroke.
Linden has not yet selected a college, but she does plan to attend and study Molecular and Cell Biology. In addition to finalizing her college decision, she hopes to spend her senior year learning more in the lab at UK, and hopes to attend the Southeastern Theatre Conference (SETC) with the school performance of The Old Man and the Old Moon. As far as swimming-related goals, she aims to "have a good state meet and a few more best times." She also plans to coach and lifeguard after graduation, and hang out with friends as much as she can.
Linden - we're impressed with your varied interests and commitment to so many activities, and the positivity you share about it all. Keep up the good work and best of luck in and out of the pool this year!