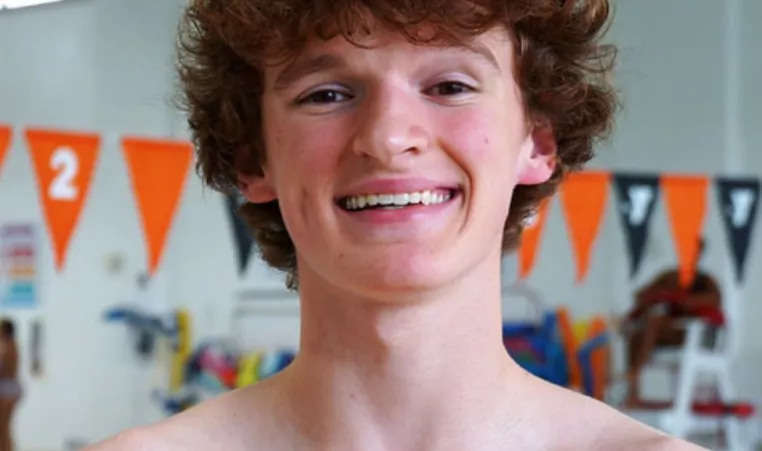 Crosby Nathaniel, a senior on the North Lexington YMCA Tigersharks swim team, knows a thing or two about staying true to yourself, even when going against the odds. His favorite events in swimming are the 200 Fly, the 1000 Free, and the 1650 Free - or as he says, "the ones almost nobody likes." But, he says, he can find a rhythm when he is in these events, as he can "lock in, use what he learned in practice and swim my best."

It was beating the odds that got Crosby started in the sport to begin with. Swimming is known to have positive effects on individuals dealing with neuropathy, a side effect of cancer. He did eventually see improvement using his hands, and by then he loved swimming enough to stick with it even after it was necessary as a course of treatment.

Joining the Y team nine years ago, Crosby says, "is one of the best decisions I could have made. The North Lexington Y Tigersharks bring together people from all around Lexington; with this, I was able to help build a community of diverse swimmers who work to better themselves and each other." In this same spirit of community building, Crosby offers advice for younger swimmers to "work hard at every practice. They all have a purpose and you will see improvement!"

When he's not swimming, Crosby stays busy with myriad activities: organizing the Bryan Station High School DanceBlue marathon, speaking Spanish, tutoring, listening to music, reading historical fiction, or completing the New York Times crossword. He also likes driving around with his friends, who would likely describe him as dedicated, helpful, and funny.

After graduation, Crosby plans to attend Washing University in St. Louis to study Anthropology and Spanish with a pre-med focus. Before that, though, he has a few more hopes for his swim career. "When my last swim season is over, I hope to have dropped time in my state and zone meet events. I always try to end a meet positively, so this time, I will try to end the culmination of 9 years positively, too."

Crosby, your amazing attitude and perspective makes you a champion in our eyes regardless of performance in the pool. We're cheering for you in the last few months of YMCA swim team, and hope you enjoy every second in the rhythms you always end up finding.