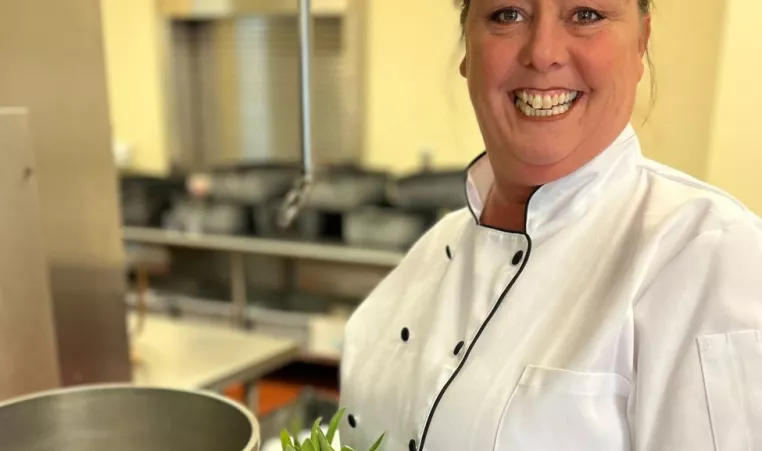 Every day at the YMCA of Central Kentucky's Center for Children, the children we serve eat nutritious, healthy food for breakfast, lunch and afternoon snack. As the executive chef of the center, Heather Hilliard - or Chef Heather, as she is lovingly known by the center's families - sees this work as a personal purpose. "The staff at the center and the YMCA association office have always been very supportive of my mission to feed children real food, made from scratch with fresh ingredients, and no sugar added. It can be done and we prove that every day." A menu in any given day might include garbanzo and broccoli balls with harissa yogurt sauce or sun butter and apple slices or smoked sausage and sweet potatoes with brussels sprouts and whole wheat pita, just to name a few - and yes, if you're wondering, the kids eat it. "It makes me very proud and honored to be at the helm of this unique food program with the Y's full backing," Chef Heather shares.

In the nine years she has been the executive chef at The Center for Children, she has come to deeply respect her colleagues. "The teachers at the center are second to none in regards to their commitment to teaching, guiding and loving young children," she explains. "It is not an easy job. I have worked with some of them for almost a decade, which has been the honor of my career. I consider some of them as close as family."
It's not just the other Y staff she has grown close to. "What excites me most about my Y is the relationships I have formed with the staff and families we serve," she explains. "It is exciting to see a child grow from an infant to school age and know we played a part in their development and potentially formed lifetime bonds with them and their parents."
When she's not exposing the children at the center to the wonderful world of healthy food, Chef Heather likes to cook for herself and check out the local dining scene. She also enjoys live sporting events, outdoor festivals, art shows, and hanging out with her daughter as often as she can.
As someone whose life work is nourishing kids in their growing years, it's seems fitting that Chef Heather has an eye toward the future when she reflects on her job. "I appreciate the Y offers a pension plan for its employees," she shares. "And I appreciate the way the Y handled the pandemic in regards to employment, and the clear communication it provided to ease my concerns about my and our center's future."
We are so grateful for Chef Heather's leadership and intentionality in providing healthy meals for the kids enrolled at the Center for Children. We believe through this work, she is nourishing their minds and bodies to become the next generation of change makers in our community.
We love celebrating our staff! If you know someone who deserves a shout out or spotlight, let us know! Email us at marketing@ymcacky.org.