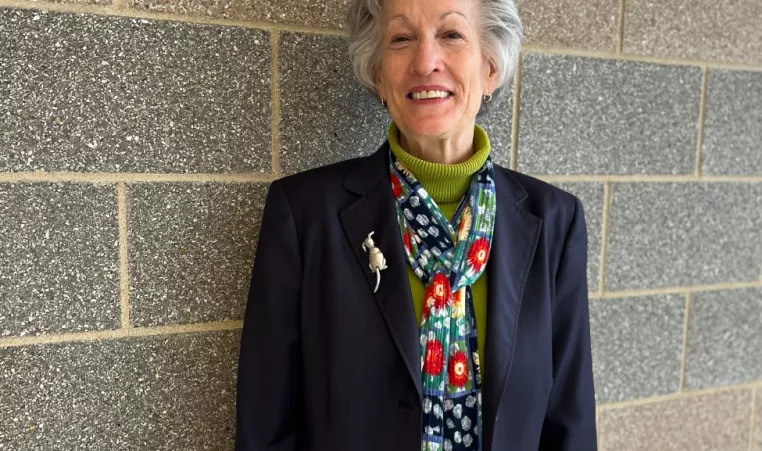 Libby Bridgeman is a regular face in SilverSneakers® classes and lap lanes of the indoor pool at the Whitaker Family YMCA. She's active; a doting mom of an adult daughter and two cats, Frick and Frack; and a supportive wife of an entrepreneur. Immediately upon meeting Libby, you sense she is truly living out her life philosophy to "just be nice." Though she's been a part of the YMCA of Central Kentucky for the past three years after a move to Lexington, she was already well-acquainted with the Y before she joined. In fact, she is a living testimony to the lifelong effects of the Y's mission and impact, particularly as it relates to individuals and families who receive assistance.

As a young girl without many means in rural West Virginia, her older brother's wife, Sue Skaggs, saw to it that Libby was able to attend YMCA Camp Tockwogh on the Chesapeake Bay in Maryland. It was there that Libby learned to swim, canoe, row a boat, water ski, sail, and participate in archery and rifle activities. She even went on to become a junior counselor and a water ski instructor. "I wouldn't have learned to swim without my experiences at camp," Libby reflects. "I had opportunities I never would have had otherwise." Those opportunities continued as Libby became a teenager, and she spent the summer of 1969 in Europe as part of what was then a YMCA exchange program. "I was fifteen years old in Frankfurt, Germany with the Y when man landed on the moon for the first time," she remembers.

Libby went on to become a nurse, educator, nurse paralegal, certified professional health care risk manager, and eventually director of the C.A.R.E. program at West Virginia Mutual. The foundation of this career was an education funded by federal nursing loans and scholarships - not unlike the support she received to attend Y camps and the international exchange program. "I am a scholarship kid on so many levels," Libby explains plainly. "Most people don't want a hand out, they want a hand up. Then, you pay it forward. You have to!" It is the combination of her own Y experience and this philosophy that led Libby to serve on the Board of the Tri-County YMCA in Hurricane, WV and more recently, compelled her to donate to the 2023 Whitaker Family YMCA Annual Impact Campaign. After learning more about the ways the donations impact others, she "went home and wrote a check. In memory of Sue Skaggs, of course. I am sure I am the person I am because of the Y and because of Sue." For a woman who had incredible, life-shaping experiences at the Y, and was able to have access to them because of the generosity of others, it was a full-circle moment of giving back.

We're so thankful Libby found her way to the Whitaker Family YMCA and shared her Y story, memories, and heart with us. Would you like to be featured in a Member Spotlight? We'd love to hear from you! You can share your story here or email marketing@ymcacky.org.