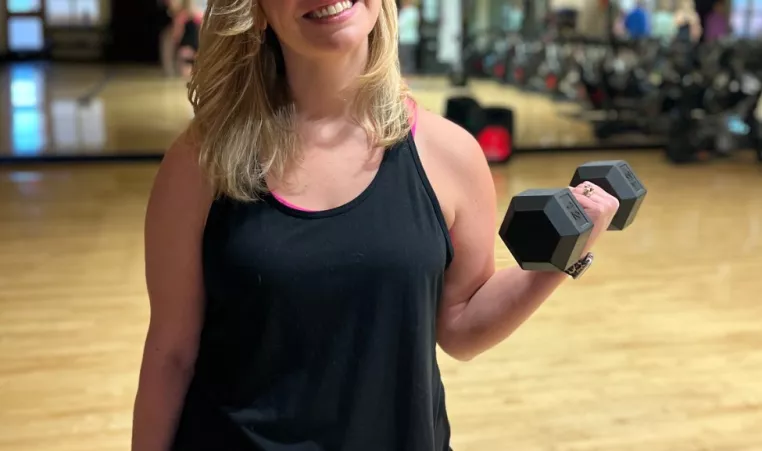 Hillary Abbott sort of glows when she talks about her experiences at the YMCA. She learned to swim at the High Street YMCA and even as a toddler knew the Y was a space of comfort, joy, and fun. She talks about feeling mesmerized watching the snow fall on High Street from cardio machines, and has a desire to spread the word of the North Lexington Family YMCA's "magic." It has been as an adult and as both an employee and a member that she says she has found her community at the North Y, simply because everyone belongs. "It is an ideal ecosystem for thriving. Seldom do I walk down the halls without passing a smiling face; when I am feeling low or in need of a boost, I know I can go spent and walk out refreshed." During that time between going in and coming out, Hillary "religiously attends" group classes with her workout partner - her mom, a breast cancer survivor. "The Y has become our sanctuary and has brought us closer than ever and is a reminder of how resilient the human body is and how important it is to keep it strong."
She shares in good humor that she enjoys seeing "the beginning of abs I have found thanks to Kara's Reformer classes at Whitaker," but it isn't just the way the YMCA keeps her physically active that keeps her coming back. Hillary is emphatic about the mind/body connection and how it has manifested for her through the years. "Being strong is not just about muscles but also about mental/emotional fortitude. I think having a safe, family atmosphere to be vulnerable yet encouraged while given the space to redesign your body is what makes me Y." Also, building relationships with others is integral to her Y experience. "We have made so many friends in our classes and with our instructors, that it feels like Cheers regardless of the time we arrive. We cheer each other on, in passing and in class-we hold each other accountable because we care. The Y made that connection because the Y fosters that kind of community."
Hillary spends her work hours drafting agriculture legislation and leading agriculture committee meetings for the KY General Assembly in Frankfort as a nonpartisan legislative agriculture committee analyst. She's also a huge soccer fan and leads the Lexington chapter of the Bluegrass Blues, a social group for Chelsea Football Club supporters. Her love of all things England extends beyond soccer; recently she has been immersed in medieval British History. She and her husband Brian, also a Y member, are parents to three cats, Addie, Salem, and Fran Kirby, and have a vast collection of vinyl records - 3,000 and counting!
Even with her full professional and social life, Hillary makes time to maintain her beloved YMCA routine. When you ask her to describe the Y in three words, her response is a reflection of her longtime membership and experiences so far: "rejuvenation, the glorious and incomparable smell of an indoor pool, and community". But when you ask her about what excites her most about the Y and the community, she looks to the future: "the potential! The next FitFest (group exercise event) at the North Y or the next YMCA 5K race." And that perfect mix of "making muscles while making friends." Hillary's involvement comes full circle, as she pays forward what she has received from her Y community by giving back it. "I never want it to go away so it is important to invest in the place that gives so much to so many."
Do you have a Y story you'd like to share? We'd love to hear from you! Share your thoughts here or shoot us an email - marketing@ymcacky.org