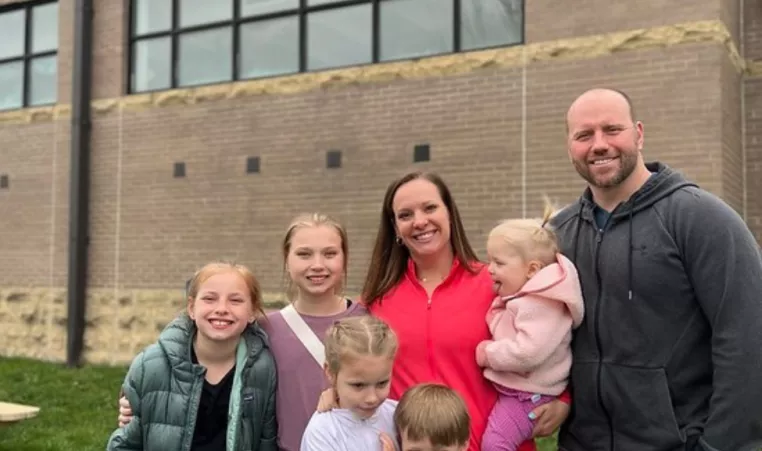 The Buckley Family has certainly found a way to make the most of their YMCA household membership, participating in swimming lessons, fall festivals, youth fitness, preschool movement classes, the White, Greer & Maggard Kids Tri at the Y, swim with Santa, group exercise classes, Pilates Reformer, Parents' Night Out, open gym - and more. While these activities and programs have kept the whole family active and busy, mom Alie points to something else altogether when asked about why they stay. "There are many reasons we have stayed at the YMCA but they all come back to the people. We always feel welcome, our kids are excited to see familiar faces (adults and kids alike!), and it has become a part of our daily routine."

When the Buckleys moved to Lexington from North Carolina in 2015, they were a family of four looking for a place to belong. They found the C.M. Gatton Beaumont YMCA where the kids, then ages four and two, immediately felt comfortable in Kids Corner. Kids Corner, a benefit of household memberships which offers up to two free hours of childcare per day while a parent is at the Y, has been integral in the Buckley family's Y experience. Since first becoming members, they've welcomed three more children, and often plan their daily schedule around the childcare hours. "It is not a stretch to say that Donna Jo and the rest of the Kids Corner staff have helped raise our children," Alie shares. "They have reached out after the birth of our babies and also during more difficult times, too. We consider them family." And with five growing kids, the Buckleys mark family milestones in terms of YMCA activities. "The YMCA has become such an important part of our daily lives that our oldest two daughters each requested we visit the Y on their tenth birthdays to celebrate being old enough to walk on the track unsupervised. Two of our five kids potty-trained because they wanted to move into the "big room" in Kids Corner at the YMCA!"

Although so much of their Y experience has revolved around the family unit, Alie also shares that it has been a place for her as a working mom to connect with other adults, prioritize her physical and mental health - and even complete her doctorate degree. "We moved to Lexington for me to pursue my PhD at the University of Kentucky," she explains. "I have spent countless hours in the Beaumont Y lobby working on coursework, grading, and writing my dissertation. It is not an exaggeration to say I would not have completed my degree without the YMCA, and even included this in the acknowledgments section of my dissertation." Likewise, her husband Andy uses the Y as a place of respite from his job, allowing him to recharge for the family. "This became even more important in 2016, when after having my third baby, I struggled with extreme postpartum anxiety. For many months, he took on the role of caretaker for me and our children, and the YMCA remained a constant source of support," Alie shares.

And that support will remain, even as the kids grow and the involvement in activities inevitably evolve. "There are many things about our YMCA that have changed since we joined in 2015, yet, so much has stayed the same. To me, this is the perfect combination - strong core values and intentions, with a willingness to change - in an effort to meet members where they are." Alie continues, "It is difficult to effectively convey how much the YMCA has positively impacted our lives. It can feel scary and lonely when moving to a city with no family or friends, but the people at the YMCA have been nothing short of incredible to us. I can't wait to see what's next."

We love serving families in a variety of ways and feel so fortunate that the Buckleys are a part of our Y community. You can get to know them more and hear more about their experience in their own words in this member spotlight video.