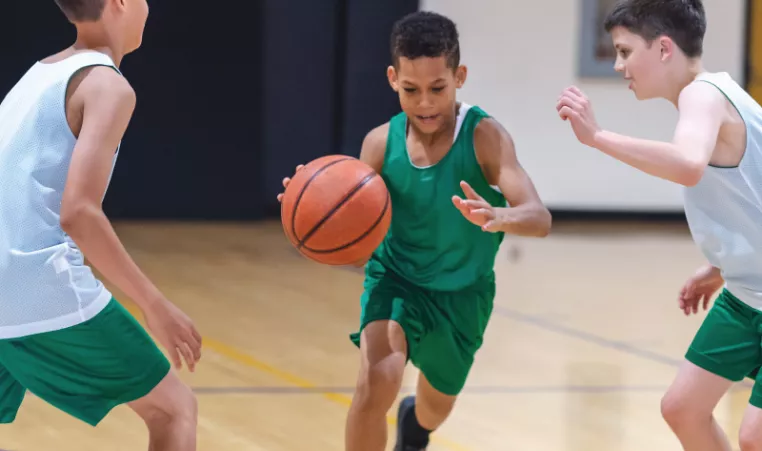 It started at the YMCA!
Basketball dates back to the winter of 1891-1892, when Dr. James Naismith of Springfield, MA was given the challenge of creating a game that could be played indoors during the cold winter months. Hanging simple peach baskets and using a soccer ball, Naismith created the game of basketball and wrote the first 13 rules of the game.
It is a sport for spirit, mind, and body!
In addition to the physical benefits of the sport – cardiovascular training, endurance, and more! – basketball is a team sport, which promotes the YMCA's four core values: caring, honesty, respect, and responsibility. Other benefits we see in youth basketball include:
Critical thinking skills
Learning the value of committing to a group of people who count on you
Self-confidence
Lessons that life might not always be fair
Practice at fairly receiving and giving praise and criticism
Identifying a means of joyful movement
In Central Kentucky, it is a city pastime.
Lexington's own University of Kentucky's men's basketball team has a long history of success in the sport. Eight-time NCAA college basketball champions, the program has inspired many collegiate and professional athletes through the years who dream of someday playing as a Wildcat! We're called Big Blue Nation for a reason, and you can get a jump start on those athletic pursuits for your own family at the YMCA, where…

We offer seasonal basketball for youth, aged 3-14.
Get connected at the YMCA of Central Kentucky with youth sports! Youth leagues and skills clinics are offered throughout the year. Stay up-to-date with our program offerings and opportunities for your family to grow through basketball here.