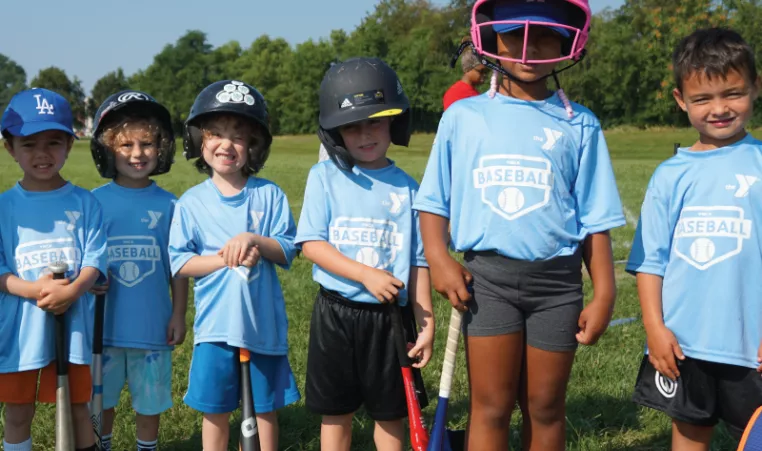 It's officially April, and it's safe to say at the YMCA of Central Kentucky, we are ready for spring and all of the fun and programs that come with it. We're sharing some of our events below, as well as some key dates for registering for your favorite programs at the Y. 

Reminder about belonging at the Y! In addition to city-wide access to all of our locations, our amenities and group fitness classes, YMCA of Central Kentucky membership includes priority registration for many of our programs. As a member, you get early access to register for sports, summer camp, and school aged child care. Click here to learn more about membership and how you can find your Y, or stop by any of our locations to meet our staff and get a tour. For all of April, pay no join fee when you become a member.
Child Abuse Prevention Month - Every April, National Child Abuse Prevention Month recognizes the importance of families and communities working together to prevent child abuse and neglect. This year, the YMCA of Central Kentucky is participating in the  5 Days of Action to raise awareness and provide specific guidance for how we can all ensure a safe and healthy community for the children we love. Watch our social channels April 18-22 for info and tips on staying vigilant and safeguarding the youngest among us!
 
Toyota Bluegrass Miracle League – swing, batter batter, swing! We are overjoyed to welcome the Toyota Bluegrass Miracle League back to the field after having to pause for two full seasons. The season will kick off with opening day on April 9. This baseball league is inclusive of all players regardless of physical or mental differences and abilities. Everyone bats, everyone gets on base, and everyone scores. This incredible program has both youth and adult teams. 

Interested in getting involved? Teams and players need buddies, and picnics are served at games throughout the season. For more information, email Tyler Davidson at tdavidson@ymcacky.org or visit the TMBL Facebook page.
 
After school care for 2022-23 school year – Registration for YMCA After School Care opens this month. Comprehensive details on locations, times, options for after school care can be reviewed here. Key dates to know are as follows:

Registration for Returning Participants: April 4-15
YMCA Member Priority Registration: April 18-22
Community registration will begin May 2
 

The YMCA of Central Kentucky Annual Celebration of Impact - YMCA staff, volunteers and board members will gather at the Grand Reserve event space on Wednesday, April 13 to celebrate last year's impact on our community. This celebration is an opportunity annually to recognize our dedicated volunteers and staff who truly make Central Kentucky a great place to live, work and play. The following week, we will highlight our volunteers of the year on social media as part of National Volunteer Week.  We look forward to uplifting the individuals who make a difference in our Y community with their time, talents and treasures.
 

Easter - All of the YMCA of Central Kentucky locations are closed on Sunday, April 17, 2022 for the Easter holiday. Regular operating hours will resume Monday, April 18.
 

Healthy Kids Day® – Healthy Kids Day is back! Our unofficial kick off to summer, this free family event will be held at the North Lexington YMCA on Saturday, April 30 from 10 a.m. to 1 p.m.! Free activities, opportunities to sign up for membership and programs, games, food, and more. It's the 30th anniversary of the national YMCA Healthy Kids Day initiative and it's going to be a party! Save the date now, and plan to join us! More information will be shared as we have it on our website and the Facebook event. We're grateful to our local sponsors of this year's event, White Greer Maggard Orthodontics and Academy Sports + Outdoors.
 
Other reminders and happenings:
Pilates Reformer registration opens April 4 for May, June, July & August sessions.

C.M. Gatton Beaumont YMCA is hosting a Super 6 Circuit Challenge to raise funds for the Annual Giving Campaign on Saturday, April 9.

Summer Sports registration for YMCA of Central Kentucky members opens April 18 and April 23 for the community. Practices begin May 30; games run June 11- July 23.

Four-week swim lessons begin April 11. Registration for lessons (all ages) is open now.

The next Martial Arts session runs May 2- July 3 session.  Register now.

The Y has regular trainings and certifications for members and the community. Now registering for upcoming CPR & First Aid, Babysitting, and Lifeguard courses.
We can't wait to see you at our Ys and in the community this month! Be sure you're keeping up with us on Facebook and Instagram and check our website so you don't miss a thing, and tag us when you're at the Y so we can see the many ways our Y is loved!