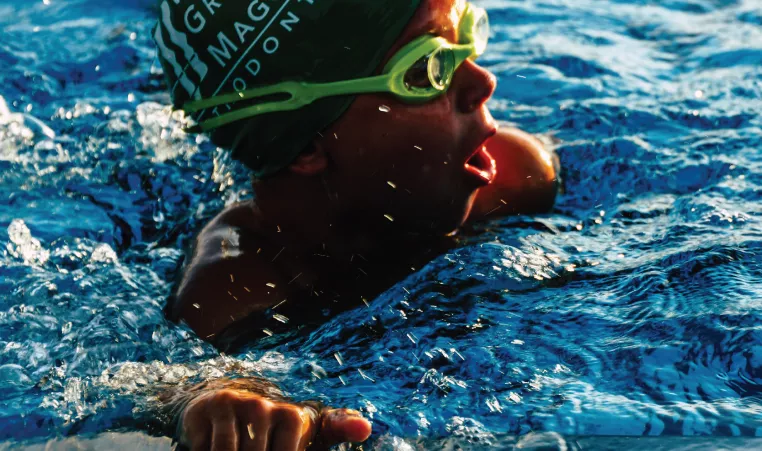 Lexington, Kentucky (May 4, 2021) – The White, Greer & Maggard Kids Tri will be held Sunday, Aug. 22, at the C.M. Gatton Beaumont YMCA, located at 3251 Beaumont Centre Circle in Lexington. The race, for kids ages 6-14, will consist of three events – swimming, biking and running and begins promptly at 7:30 a.m.
"A triathlon for kids is such a great way to introduce multiple types of physical activity for youth outside of traditional competitive sports. It also provides a way for youth of different abilities to feel accomplished as they cross the finish line!" said Nikki Hartley YMCA Healthy Living Director. 
Registration must be completed in advance at ymcacky.org/events/kidstriathlon or in person at any YMCA of Central Kentucky location. Cost is $40 per child and will increase to $50 on July 5. The race will be capped at 150 participants and all COVID-19 safety measures will be in place.
Each participant will receive a race packet, which includes a short sleeve t-shirt, swim cap, bib, and safety pins. Registration packets may be picked up from 4 to 8 p.m. Friday, Aug. 20, 8 a.m. to noon Saturday, Aug. 21, at the C.M. Gatton Beaumont YMCA Outdoor Pavilion or Saturday, Aug. 21 from noon to 6 p.m. in the lobby at the C.M. Gatton Beaumont YMCA. Race day check-in will be between 6-7 a.m. and a pre-race meeting for parents and kids will be held prior to start.
Race segments, by age, include:
6 to 8-year-olds: Swim 50 yards; bike 1 mile; run ½ mile.
9 to 10-year-olds: Swim 100 yards; bike 2 miles; run 3/4 mile.
11 to 12-year-olds: Swim 200 yards; bike 3 miles; run 1 mile.
13 to 14-year-olds: Swim 200 yards; bike 3 miles; run 1 mile.
Lily King, a 2019 Kids Triathlon participant said her favorite part of the triathlon was getting to ride her bike on the road. "As her mom, I knew this would be a challenge for her, but I wanted her to see that she could do hard things if she practiced, set goals, and dedicated time to train for it.  We enrolled her in the training classes, and those helped her practice transitions and familiarize herself with the format and course, so when the actual day came, she was confident and ready to compete. We can't wait to try it again this year!" said Mary King.
For more information or to register, visit ymcacky.org/events/kidstriathlon. If you are interested in volunteering for this event, please contact Healthy Living Director and Race Director Nikki Hartley at nhartley@ymcacky.org.
Special thanks to our title sponsor and official sponsor of summer, White, Greer & Maggard Orthodontics.