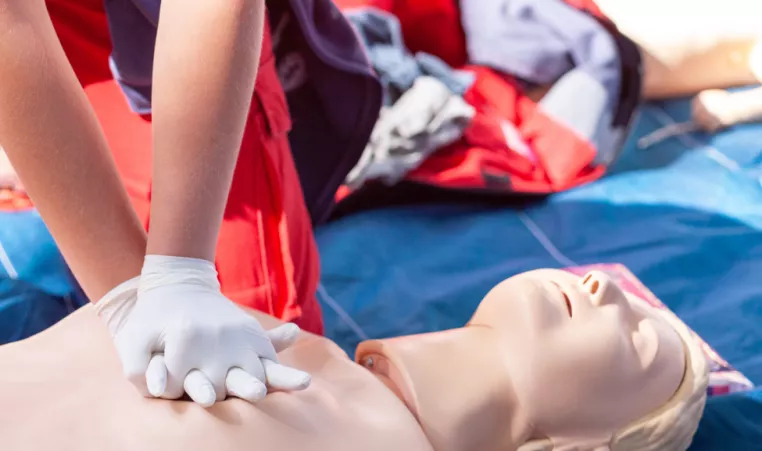 Performing the steps of cardiopulmonary resuscitation (CPR) allows the circulatory and respiratory systems to deliver needed oxygen to other organs when the heart and lungs have stopped working. This process improves the probability that anyone who might have suffered an unfortunate event will live.

The importance of CPR during cardiac arrests cannot be stressed enough. That's why we offer CPR classes at several of our YMCA of Central Kentucky locations year-round. We provide instruction in performing the basic skills in respiratory and cardiac emergencies. Our classes can certify you to perform CPR on adults, children, and infants. Learn how getting a CPR certification can help anyone experiencing a cardiac and respiratory arrest increase their chances of survival.
CPR Isn't Just for Doctors
When a patient experiencing cardiac arrest gets to a doctor, every second matters. If the patient has to wait for a doctor or other medical professionals to attend to them, the effects of any medical episode may compound over time and become irreversible before anyone can attend to them.
If you are trained in CPR, you can start the steps as soon as the cardiac event starts, improving the chances of the patient's survival. It doesn't matter what level of education you have or what your profession is. Anyone can learn to perform CPR so that people who are having cardiac arrests can be assisted before they get to a doctor, keeping their heart going and increasing their chances of survival. 
CPR Can Make Your Home Safer
Knowing that you can perform CPR on older adults living at home, especially if they have medical issues, should give you and them peace of mind. Those who struggle with high blood pressure, high cholesterol, or diabetes will feel secure knowing they will receive immediate help if any of these conditions cause cardiac arrests.
If you have a pool, the importance of CPR becomes elevated, especially in a household with children. Drowning victims can suffer respiratory distress that stops them from breathing. When you perform CPR, you will help them continue breathing to circulate oxygen around the body until rescue and medical professionals can lend a hand. 
Schools Are Safer if Someone Knows How To Do CPR
People of any age, including children, can experience sudden respiratory or cardiac arrests. Children can have known or unknown medical conditions such as congenital heart disease, asthma, or allergies contributing to breathing or heart problems. 
Allergies can cause anaphylaxis when children are exposed to allergens, causing a drop in blood pressure or the airway to be blocked. You might expect cardiac and respiratory distress in children with all these conditions, and the importance of CPR becomes paramount to giving immediate assistance if these should occur.
Every Minute is Vital During an Emergency
Action must be taken as soon as a cardiac or respiratory arrest happens. When oxygen is not circulated throughout the body for some time, this can cause severe complications or even death.
For example, if the brain is deprived of oxygen for more than five minutes, this can cause comas, seizures, or brain death. Comas are a deep state of unconsciousness, and patients can remain in this state for an undetermined amount of time. Another result of oxygen deprivation is when the brain dies while the body lives. Brain death is when there is no measurable activity in the brain, and this condition cannot be reversed.
See How You Can Save a Life With CPR
If you see the benefit of being certified in CPR to increase the possibility of survival for the people surrounding you, find out how you can sign up today by visiting the YMCA of Central KY and signing up for our CPR and First Aid Training classes. We offer monthly classes at C.M. Gatton Beaumont YMCA, North Lexington Family YMCA, and Whitaker Family YMCA. Find where and when classes are available at a location and time that is convenient for you here. Save lives by registering for a CPR class with the YMCA of Central Kentucky today!