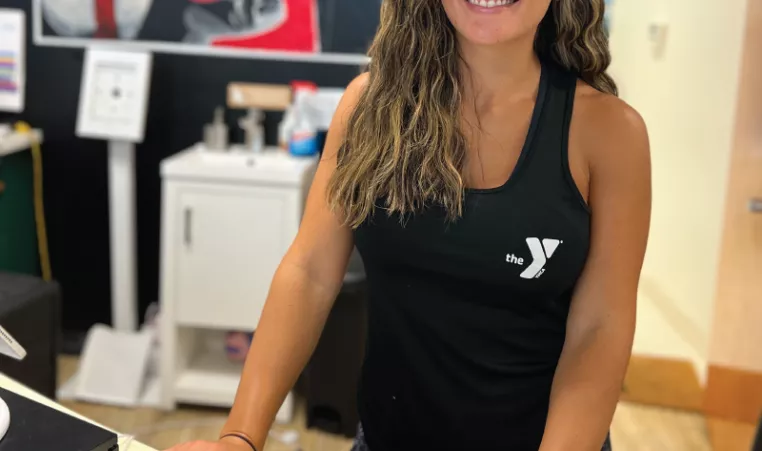 At the YMCA, we are driven by a mission to create membership and programs that will build healthy spirit, mind, and body for all. When we see our members not only get the most of their membership, but to really thrive in this way, it is the absolute joy of our work. Connie Ishii is one of those members. Full of energy and radiating positivity, Connie's enthusiasm is both inspiring and contagious. We have loved being a part of her journey from new YMCA member as a young mom to flourishing entrepreneur and even board member.
Connie, in fact, was ahead of the workout-at-home trend. She maintained her home exercise regimen until 2018, when the Splash Pad at the Whitaker Family YMCA caught her eye and she joined. That Splash Pad has become a central feature of her family's membership, as well as the pool, child care and for Connie, the plentiful space and equipment to continue her workout program. Her connection to the Y as a community began as early as the tour she took before she joined. "Ron, who did my walk through, remembered my kids' names at the end of the tour. It was everything! The way the staff treat you, and the environment, is why I stay," Connie shared.
And stay she has! In addition to utilizing many of the amenities of a family household membership regularly, Connie deepened her relationship to the Y by opening her first business in the lobby of the Whitaker Y. You may recognize her from serving up smoothies or waffles at the counter of Feel Good Nutrition, creating fun content for her social media, and using her business to support other members or raise money for the Y. Working with Dana Ensley, district vice president of the Whitaker Family YMCA, to bring Feel Good Nutrition to life has been both a professional and personal opportunity for Connie. "I will forever be grateful to Dana. She is a mentor to me. Just to be able to work with her at that level, I've grown in many aspects of my life," Connie explained. True to her generous and enthusiastic nature, she continues to use Feel Good to raise awareness about the Y's effort to be available to all. "Once I knew about the Y's mission, I was 100% in. I wanted to be a part of it and I wanted to help as much as I could. I grew up in Chile and my parents couldn't afford vacations or activities for me and my sister. I wish I would have had what the YMCA offers to families that can't afford membership, summer camp, or after school programs."
She's now a part of creating these opportunities for others. As a board member for the Whitaker Family YMCA, she has a deeper understanding and appreciation for the place that made her feel so welcome since day one. "The Y makes you feel special, like you are not just another membership. Now being behind the scenes and seeing the time the staff puts in to making every member experience better…I'm very happy to be a part of it." To that end, she shares that she hopes new members know that the Y is a place they can "just come and feel safe and comfortable exercising and staying active."
Connie lives the mission of the YMCA, and always has an encouraging word and big smile to brighten someone else's day. Her advice for someone just starting on a health journey is simultaneously simple and wise: "Take it one day at a time. You might not see the results in one week but if you get in the habit of showing up for yourself, even if you don't feel like it, it will create a habit and become a lifestyle."
We've loved seeing Connie grow so much and are grateful for her support. She truly makes our Y a better place to be!